Calling All Veterans!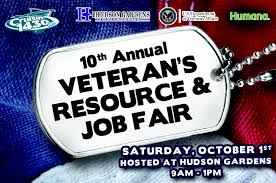 Veterans boldly risk their lives in serving our country; but once they get back from their service, they usually have difficulty finding a position in the workforce. That might be the result of skills not matching up, acclimation back to real life, or negative stereotypes against veterans. Whatever the cause may be, the effect is obvious, there are too many unemployed veterans in our country today.
The Veterans Administration is working to solve that. Along with Humana and 99.5 The Mountain, the VA is holding the 10th Annual Veterans Resource and Job Fair. Hudson Gardens is hosting the fair Saturday, October 1st, from 9:00 a.m. to 1:00 p.m. Come meet generations of veterans looking for new careers, plan for retirement, and find opportunities specifically for you. Employers from Humana, Morning Star, Thornton Police, and so many more will be there to welcome you back into the workforce.
Hudson Gardens
6115 S Santa Fe Dr
Littleton, CO 80120
United States