Daredevil returns, shedding light on the dark and grimy side of the Marvel Cinematic Universe
Last April, Netflix released the first season of Daredevil. It was a risk they took, and a risk that paid off immensely. Daredevil's first season had its problems, but the spectacular and violent action partnered with Vincent D'Onofrio's fantastic villain Wilson Fisk elevated it above its problems and made it an addicting show to watch.
Now Daredevil's season two is here and it's more violent and gritty than the last, but also feels a bit messy and crowded at times.
Don't get me wrong. I finished the second season in a weekend. It's addicting and compelling, but the giant hole left in the wake of Fisk going to prison makes this season feel like it's missing something big. Season two has a hard time nailing the main antagonist until about three-fourths of the way through the season, and by then it felt a little implausible and rushed. The secret organization called "The Hand" it coming to power and trying to take over Hell's Kitchen and, possibly, New York City itself.
That's all I'll say because a majority of this season is focused on Frank Castle or The Punisher. Jon Bernthal absolutely kills it as a vigilantly that kills anyone he believes is in connections with organized crime or really anyone he believes to be a danger to the people of Hell's Kitchen. He's the most compelling character this show has introduced by far and also the most brutal. A violent execution of Irish mob members in the opening episode shows what this man is about, and he's not here to knock people out and take them to jail like Daredevil does. His face-offs with Matt Murdock makes for some of the best scenes in the opening few episodes and Frank Castle's story just gets better and more mysterious as the season goes on.
In here lies the problem with season two. The writers needed to put more focus on Castle's story and not less on the introduction of Elektra Natchios. It's not that Elodie Young is bad as Elektra, but as a certain story line progresses with The Punisher, it soon gets interrupted by the blurry side story of Elektra and Matt trying to uncover mysteries involving the Chinese Mafia. It just felt forced and honestly didn't need to be in there. I felt that if they would've focused more on Frank Castle and Matt Murdock facing off this season would've been much sharper and better than it is.
The action in season two is worth a mention too. The first season of Daredevil showed that Marvel wasn't afraid to get their hands dirty (A particular scene when Fisk slams a man's head in a car door till there's not head left still pops into my mind). Season two, for me, never hit those levels of brutality but this is still an R rated show. Certain scenes are more action oriented (A fantastic "single-shot" stairway fight in episode three) while others are violent, bloody and hard to watch (a prison fight reminiscent of The Raid films goes down in episode nine). This show somehow manages a great mix between both. Never becoming too overpowering in its violence, but managing just enough that you can't help but gasp in shock when certain moments go down.
However, Season two of Daredevil is awesome. There are a few weaknesses here and there, but it still manages to pull past those story-telling flaws and give us thirteen addicting and exciting episodes. Charlie Cox continues to do a fantastic job as Matt Murdock and make the character's conflicted soul this entire season evident. Jon Bernthal is the highlight here. Frank Castle is a man on a warpath and he adds a terrifying air to the season when he shows up. Marvel would be crazy not to give him his own spin-off show or movie.
Overall Daredevil season two is worth the watch if you aren't binge-watching it already, and if you haven't gotten a chance to check out Daredevil, now's your chance. Marvel is taking risks bringing these darker, grittier, and sexier story-lines to life and it's been paying off wonderfully. With the promise of a second season of Jessica Jones on the way along with Luke Cage, these shows are just going to pick up more steam. In a time where superhero fatigue might be setting in, Daredevil might be just the thing to snap you out of it.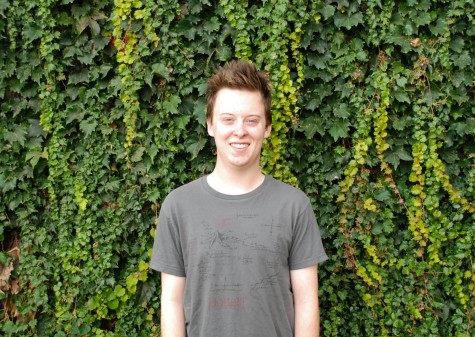 Timothy Page, Arapahoe Pinnacle Movie Critic
Timothy Page is a second-year ACC student. He loves all things movies, as well as his Saint Bernard, Nesta. His favorite movie is "Lord of the Rings: The Two Towers." He hasn't seen as much of Alfred Hitchcock as he would like. But...