The Oscars and the death of a meme
On Sunday February 29th, Hollywood's biggest night was held. With very little surprises, Chris Rock's barbed humor towards the #OscarsSoWhite campaign and, of course, Leonardo DiCaprio finally getting that gold statuette.
As the ceremony started, Chris Rock came up showing off his stand-up comedian chops. Beating into us that the whole #OscarsSoWhite thing was a bit ridiculous, saying that Hollywood is more "sorority racist" than anything else. He also commented that back in the 60s this was never a problem because blacks had to deal with "Real Problems."
"It's hard to care about 'Best Documentary Short' when your grandma is hanging from a window," said Rock. It was a joke that gained a lot of groans and eye rolls from people there and watching at home.
After that, the ceremony lost a bit of steam. Rock just kept on beating the racial jokes that by the end we all wanted to say "We've got the idea!"
In terms of award winners, 'Mad Max: Fury Road' cleaned up all the technical categories, including Best Makeup and Hair Styling, Sound Mixing/Editing, Film Editing, Costume Design, and Production Design. It was impressive and well-deserved. If you haven't seen 'Fury Road' check it out, it's well worth your time.
Brie Larson won Best Actress for her performance in 'Room.' A well-deserved award for one of the best movies of 2015. I still think Jacob Tremblay should have been nominated for a Supporting Actor Award, but that's beside the point.
Leonardo DiCaprio FINALLY won an Oscar for his performance in 'The Revenant,' and all those memes of Leo never winning an Oscar have now become irrelevant. While his work in 'The Revenant' isn't his best work, I think this win was more to honor his past accomplishments. Honestly, if anyone was going to steal it from him it would've been Michael Fasbender for his work in 'Steve Jobs,' but even I think he could agree–it was Leo's year.
'Spotlight' took home best picture and, while I was quietly rooting for 'Fury Road,' it's a win I understand. 'Spotlight' was a somber piece of cinema and kept their journalistic search interesting and compelling when it easily could have crashed and burned. Treating the heavy subject matter well, but not overlooking it, they made it uncomfortable but not overbearing. It stuck with me long after the credits rolled and earned a place right up there with 'All the Presidents Men' in journalistic cinema.
So, another year in movies is capped off and we head into a new year rife with possibilities. While this year's ceremonies went on a bit too long (FOUR HOURS) and the race joke became a bit overbearing at times, it still managed to be an enjoyable evening and honored some of the best 2015 had to offer.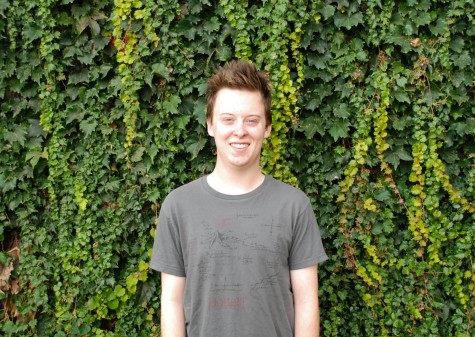 Timothy Page, Arapahoe Pinnacle Movie Critic
Timothy Page is a second-year ACC student. He loves all things movies, as well as his Saint Bernard, Nesta. His favorite movie is "Lord of the Rings: The Two Towers." He hasn't seen as much of Alfred Hitchcock as he would like. But...