Community Education has classes for all ages this winter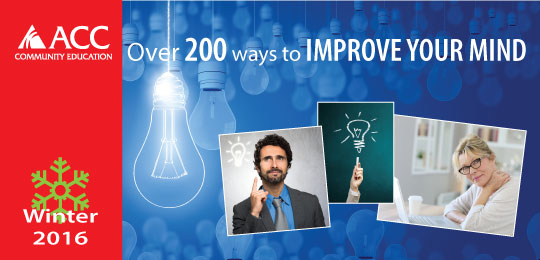 The start of a semester means full classes and busy hallways filled with students working hard towards a degree. At night, when most of the classrooms have emptied, there are still groups of students working hard for a different form of education altogether.
The ACC Community Education department offers several non-credit class options for any individual wanting to advance their career or improve their lifestyle. Ranging from computer to language skills, these affordably priced classes are instructed by dedicated teachers and attended by motivated students.
Operating on a quarter term system, Community Education's winter session started earlier this month. Although Community Education's Equine Training program started already, a majority of their class offerings have starting dates rolling over to the next couple of months and are open for registration.
Serving the community around ACC, Community Education is open to the public and does not require enrollment at the college for admission. This allows younger students to experience a college environment and prepare for the ACT and GED test. Older students also feel welcome, as they attend retirement planning classes and partake in activities such as dance and art classes.
Attempting to serve the community inside ACC as well, Community Education offers in-person courses, such as How to Fund a College Education on February 2 and online classes like math and grammar refreshers starting monthly.
Students and community members interested in starting or advancing their small business opportunities should refer to the Community Education Business section. This section includes classes like, Entrepreneurs in Colorado! How to get started and Introduction to Facebook Advertising. Both classes start Feb 9.
Thanks to ACC's music department, Community Education offers private music lessons and seats in ACC's Chorus and Orchestra. All classes are taught by credit instructors in the music department.
Hudson Gardens provides a location for Community Education students to attend the classes that make up the Floral Design Certificate Program. This hands-on program consists of four one-day classes that start in March, and can be taken over the course of a year to receive a certificate.
Community Education runs a majority of its classes year round. Meaning, if a class has already started there is a strong chance it will be offered again next semester. If a student cannot find a class, chances are there is an online option available. Community Education partners with Ed2Go and offers hundreds of online courses with monthly starting dates.
ACC's non-credit winter session is just getting started with tons of options for both in-person and online classes.
There are three easy ways to register for classes: the Community Education Office in room AA 1215, by phone at 303-797-5722, or visiting their website.
Registration is open now.