Review: 'Brooklyn' is a sweet little film about finding your place in the world
Timothy Page, Arapahoe Pinnacle Movie Critic
December 6, 2015
Eilis lives a small town in 1950s Ireland. It's a town where everyone knows everyone, and it can feel a bit stagnant at times.
So when Eilis' sister sets up a chance for her to go to America, Eilis takes it. Nervous but ready for something new, she moves into a boarding house in Brooklyn, trying her best to start a new life but still wishing she was back at home, eating dinner with her Mother and Sister.
All that changes when she meets a boy, and starts to realize that this strange new land maybe isn't too bad.
That's the basic premise of this movie. It is a very simple film but it manages to be very engaging. As the movie progresses, Eilis slowly comes into her own, and that's all credit to great writing and the lead Saoirse Ronan. This Welsh actress has had an interesting career, and this proves that she's not just another grown child actress. Her performance is very quiet and subtle, but as the film concludes you can see how much she's grown over the course of the film.
It's a movie that isn't for everyone.
It can be a bit slow at times, and if you aren't into love stories in film, you probably won't like this one. It is a great drama though.
It's funnier than you'd expect, and very moving in certain places. A tragedy strikes at home and Eilis has to return to Ireland. Leaving the man she loves back in New York, things start opening up for her back in Europe and she's torn between two different lives.
It sound cheesy, I know, but it ends up being very well done. As I've said, the cast and writing are great, and I found myself invested in this character and wanting to know what path she chooses. For how simple and quiet this movie is, I was shocked at how much I cared for this character by the end of the film.
In the end "Brooklyn" is a slow and quiet film that is powered along by great writing and acting. Ronan shows what she capable of doing as an actress and the supporting cast around her just helps build the story. The 50s style clothing and set design elevate the film even more, making me want to jump in a time machine a jump back in time.
If you check out "Brooklyn" during this holiday season, you might find that the warm atmosphere of the film is just what you need on a cold winter day.
Rating 4/5: A sweet, simple, and charming movie.
YouTube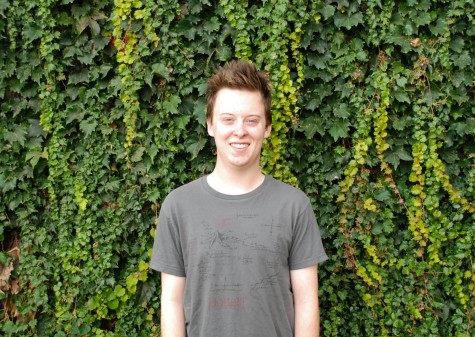 Timothy Page, Arapahoe Pinnacle Movie Critic
Timothy Page is a second-year ACC student. He loves all things movies, as well as his Saint Bernard, Nesta. His favorite movie is "Lord of the Rings: The Two Towers." He hasn't seen as much of Alfred Hitchcock as he would like. But...