Therapy Dogs for Finals Week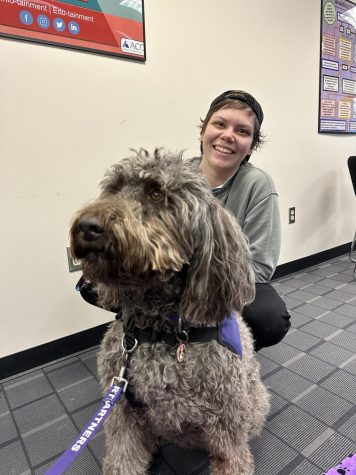 On Tuesday, Dec. 6, Arapahoe Community College (ACC) hosted a therapy dog event in the library, where students and staff could find dogs, big and small, just waiting to give and receive love. Every semester, during finals week, ACC pairs with Denver Pet Partners (DPP) to bring a variety of therapy dogs to the school to help students with the stress of finals. The event lasted from 11:30 a.m.-1:30 p.m., but since the dogs work in shifts, there were different dogs throughout the event. 
Like humans, each dog had their own backstory. Chief, a fluffy, white Samoyed, drove two hours with his owner, Denice, to visit ACC students. Denice, who has spent 19 years with DPP, spoke to students about how Chief has been a therapy dog since he was just 13 months old. He will be 9 at the end of January and is her sixth registered therapy dog. Chief's fluffy coat and love of hugs caused him to be a big hit at Tuesday's event.
Each therapy dog has specific jobs that are suited to the needs of them and their owners. Some do great in hospitals, while others do better in schools around children. Rika, who visited ACC with her dog Baku, described why this is. While therapy animals can handle different situations, some are easier than others. "We don't do hospitals. I don't like them, my dogs don't like them," Rika said, because she would have to lift her small dogs to be wheelchair or bed height. Instead, she says "we're better with people who can be on their level," which is why Baku, his sister Bindi, and Rika prefer to work with special needs children in schools.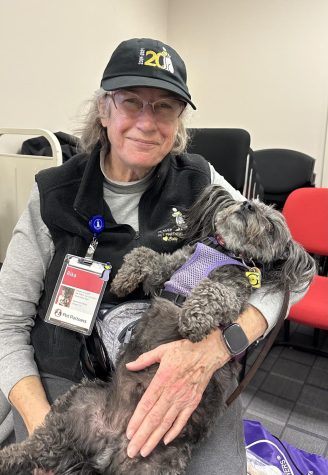 Ziva, a brown Labradoodle and her owner Janice visited for their third event at ACC. However, Janice is an ACC alum from many years ago. Ziva, who is almost 10, has been a registered therapy dog since she was just 2 years old. The pair have been going to events together since 2015. Before that, in 2013, Janice would take Ziva's grandma to events. Janice has been breeding Labradoodles for a few years because they are hypoallergenic and have a good temperament, which makes them perfect therapy dogs. Janice explained, "I didn't do this to make money. I just really wanted to provide calm, obedient, service dogs to people."
Outside the room of the main event, students could find a couple more dogs. Pippin, a long haired mini dachshund, got to celebrate his debut as a registered therapy dog. He had just received his certification, after beginning his training over the summer. His owner, Annette, said that she had recently gotten involved with DPP after deciding to get Pippin his certification.
The therapy dog event occurs during finals week every semester. Students who need a break from the stress of finals, or even just need a hug, are encouraged to join next semester.