ACC Placed in Lockout in Response to Threats
Arapahoe Community College (ACC) closed both the Littleton and Castle Rock campuses today, following a lockout this morning. This closure was in response to threats made against the school.
ACC was not the only school to close or be placed on lockout today due to threats. According to Colorado Community College System (CCCS), threats were also made against Community College of Aurora, Community College of Denver, Front Range Community College and Red Rocks Community College.
Auraria Campus, which houses Community College of Denver, Metropolitan State University, and University of Colorado Denver was closed, but has already announced it determined there is no active threat and campus will reopen on Saturday, Aug. 6.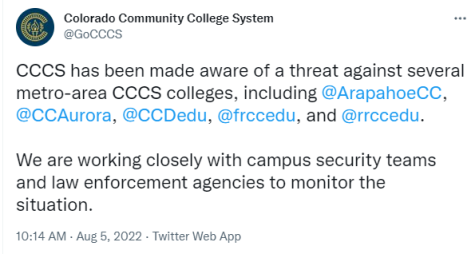 In an email sent out to students, ACC's President Stephanie Fujii said that several CCCS colleges had "received an email with threats of harm and warnings of violence. This email was sent to various and random accounts acquired from our websites and employee directories and included the Campus police and security departments of each campus."
Despite this information, specifics of the threats have not been made clear. According to a 9 News article, ACC's Police Sgt. K.W. Moreland said that several people at different colleges had received a threatening email shortly after midnight Friday. According to Fujii's email, these people were staff, whose emails were taken at random from staff directories.
Westminster Police Department (WPD) said its officers contacted a person of interest related to threats against Front Range Community College. WPD said its officers "contacted the individual and it appears as if the threats are a form of doxxing against this individual. At this time officers cannot validate any of the threats against the school."
WPD did not give a clear definition of what doxxing meant in this context, but doxxing is typically a process of publishing private or identifying information about an individual.
This afternoon, CU Boulder Police tweeted that "law enforcement has determined that the previous threat to colleges in the Denver area is a hoax."
ACC announced campuses were clear, but would be closed over the weekend. Both campuses are scheduled to reopen Monday, Aug. 8. The announcement also said that "Denver Police have determined that the threat does not appear to be credible, but authorities are continuing to investigate out of an abundance of caution."
This is a developing story that will be updated when more information becomes available.