Faces of ACC: Lara Beckwith
Tucked away behind the circulation desk sits an office with a large koi fish painted on its window. The office belongs to Arapahoe Community College's Access Services Librarian, Lara Beckwith. 
Beckwith has only been working at ACC for seven months, she previously worked at Anythink Libraries.
"It's been awesome, it's a very different shift going from a public librarian to an academic librarian," Beckwith said. "It's very strange to go from a place where the library was seen as a hangout, to a place where the library is seen as a tool."
Although Beckwith has been working as a librarian for a while, that wasn't always her plan. She started college early, as a sophomore in high school, accumulating a bachelor's degree, three masters degrees, and "a bunch of certificates in random things". 
Along the way, she studied modern European history, pastoral spiritual care, social change, classical dance, and many more subjects. While Beckwith has all the education to become a priest, her path continued to veer towards learning. 
Ultimately, Beckwith became a librarian because she has "an insatiable hunger for knowledge. Instead of deciding to collect all of the degrees, I decided it might be more advantageous to get a degree in how to learn, and how to find information. It's cheaper too!" 
While she may be a newer librarian at ACC, Beckwith is not new to the ACC community. Her mother, JaNelle Erickson, was an English teacher at ACC in the late 90's. Beckwith her earliest memories of ACC were sitting in the back of her mother's classroom and watching her teach.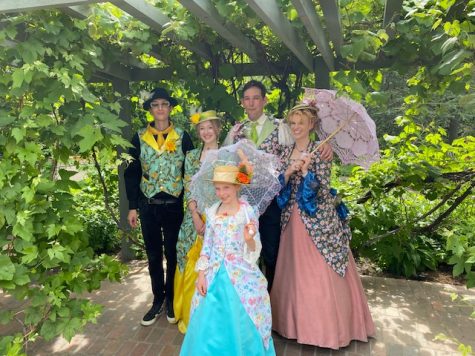 Outside the library, Beckwith has another passion: sewing. She's a professional seamstress and tailor, making mostly Victorian gowns and doing "a lot of steampunk activities. And then we also do a lot of balls and Victorian activities."
"I grew up doing historical reenacting with my father. We didn't do any civil war stuff, because that's too mainstream, so we did 1840's," Beckwith said. " Because I'm a rebel, I had to pick a different period of time. So I do the 1870's, because fashion was the most flattering on me at that time."
With such a wide variety of interests, Beckwith believes that being a librarian is the perfect fit for her because she can always keep learning, while helping others learn.
"Librarian stuff is very fun. I highly encourage it," she said. "It is the most punk rock way of being supported to be subversive in the government. If you can get yourself a job at the library of congress, that is the most punk rock subversive way to be in the system, while also dismantling the system, through access to information."