Student Ambassador program helps promote ACC to students, parents and in the community
Jake Tharan, Arapahoe Pinnacle Reporter
November 10, 2015
If you want to find yourself in the forefront of the student recruitment, you might want to join ACC's Student Ambassador Program.
Student ambassadors are heavily involved in promotion of the college, as well as helping potential students, current students and the community. They represent ACC through functions such as orientations, campus tours, community outreach and school visits.
"There's a very friendly and great staff here," said Gabriella Koehn, a student ambassador. She was praising the Student Outreach Program.
The ambassador role obviously requires excellent speaking skills, as well as leadership skills. Student Ambassadors must be prepared to provide quality customer service. Answering phones and following up with prospective students is a frequent task.
This program obviously caters to sociable students.
But if you're not the most sociable student, fear not – there still is hope for you because other roles are available.
Student ambassadors are selected through an interview process, and if chosen will find a high energy environment.
To apply, students should submit a resume with a cover letter and an application. They also will be interviewed. ACC typically selects five or six ambassadors each year. Should you be aiming to improve your communication skills, this program can be quite rewarding. Teamwork is another staple of the program.
Ambassadors will represent ACC over the course of one year, presenting a positive image of the college to potential students and the community. Ambassadors will be educators not only to students but to parents, teachers and administrators, as well. Flexibility and a positive attitude are pre-requisites to the program.
This is a work study program, so students must be enrolled in six credit hours, as well be eligible for financial aid. Ambassadors will receive compensation for the contributions to the program, being paid on an hourly basis approximately 10-15 hours a week.
More information can be found on ACC's website under the current students tab, then under the Student Life tab. Students who are interested in joining are encouraged to contact Liliana Diaz via email or phone.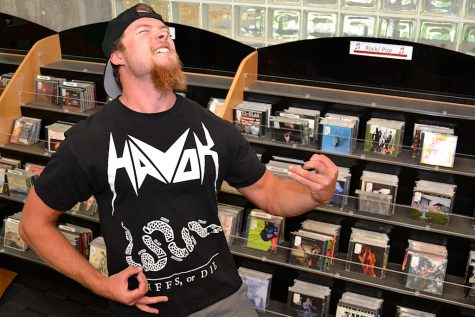 Jake Tharan, Entertainment Editor
Jake Tharan is a second year journalism student at ACC.  He is the current Entertainment Editor for the Arapahoe Pinnacle, having contributed as a music critic and reporter in the past.  Heavy metal is his aural pleasure, but he...