ACC Hosts Its Third Annual Student Awards Ceremony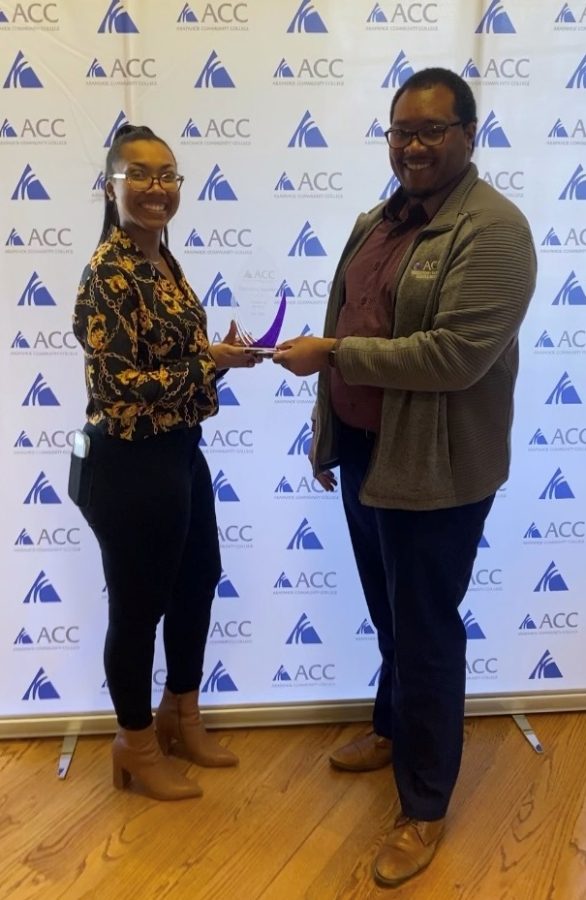 Ninety-two members of Arapahoe Community College's (ACC) community sat in polished white chairs at the Hudson Gardens event center on April 22 to honor 24 students with awards in three categories: Academic Achievement, Student Organization Leadership, and Outstanding engagement.
While this is ACC's third Student Awards Ceremony, this is the first time it was held in person due to the pandemic. Head of Student Life Dan Balski, winner of the Outstanding Student Organization Advisor, said the biggest benefit of holding it in person is that you can feel more of the spirit and the energy of students and staff.
The awards ceremony wasn't always such a large event. Before Balski came to ACC in 2017, only one student was honored. The student had to apply, interview, and then be selected until Balski restructured it. 
The new system allowed students to be nominated by other students and faculty members. The nominations are then reviewed by the Student Life and Dean of Students office and voted on. Balski said he made this change because he "wanted to bring a spirit of recognition to ACC." 
Perhaps one of the most interesting award winners was Matteo Coscia. Coscia received an academic achievement award presented by Professor Henry Weigel. Professor Weigel is the physics instructor at ACC and spoke about Coscia's various achievements. 
Not only is Coscia building robots in the summer and competing with them at the sand dunes, but he's also creating YouTube videos to tutor students in calculus and chemistry, all while being the Student Government Association (SGA) Secretary. Here's the kicker, he's only 12.
Coscia says he's very surprised and happy to win this award and wants to thank Professor Weigel. After ACC Coscia says he's planning to transfer to a four year and become a doctor.
But Coscia wasn't the only interesting student in attendance. Student of the year Dayrinia Sanders takes on as much as any student could. While Sanders is an exemplary student, she's also an example of a comeback story. 
In a text message, Sanders said, "A huge part of my journey was failing my first semester of nursing school in 2019, ending with a 1.7 cumulative GPA." Sanders reapplied and was on a mission to be a better student. She says failing was a catalyst for her to get into various leadership roles. Upon her return, she did just that.
Sanders has a double major in nursing and philosophy and already holds degrees in business and Spanish. Along with her double major, Sanders is the SGA State Student Advisory Council Representative, the outgoing Sigma Phi Chapter President (and was recently elected as the Internation Co-President), is a member of the National Society of Student Leadership and Success (NSLS), and co-founded the Peer Nurse Mentor Experience at ACC and acted as the president until December.
When asked about how it feels to win the award, Sanders said, "I'm honored, very surprised, and happy." She says she wants to thank everyone for seeing her as a person that works from the heart and everything she's done and supporting her through all of her projects. When asked about her motivation, she said, "I just want to help other people."   
With this being ACC's President Stephenie Fuji's first Student Awards Ceremony with ACC, she said in a choked-up comment, "It's awesome and inspiring. Many of us work in this field because of our experience as students. I thought ACC was special before I came, and this was evidence. It excites me and makes me want to do my very best." 
Outstanding Engagement
Paula Andres
Amanda Behmer
Jacob Davies
Natalie Dyson
Lillian Fuglei
Dayriana Sanders
Madison Smith
Vincent Vady
Ryan Wade
Sineca Williams-Boettcher
Isaac Emmanuel Winchester
Student Organization Leadership
Luke Gilbert
The National Society of Leadership & Success (NSLS) – Branda Bell, Jessica Brabham, Kim Johnson
Academic Achievement Awards
Hale Becker
Matteo Coscia
Maddie Firouztash
Kateryna Hairston
Raven Moore
Gabriel Schonacher
Rebecca Tyree
Jodee Whitehead
Jennie Withrow