Some Mysteries are Closer Than you Think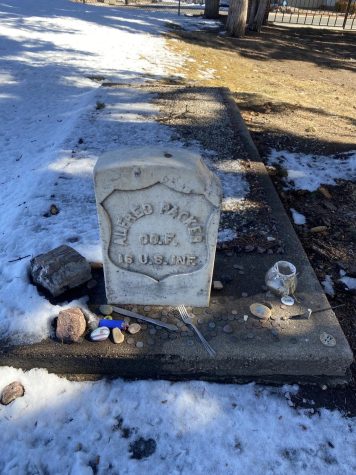 In the second episode of Rocky Mountain Mysteries, hosts Ashley Marcon and Kayla Rucinski take their podcast listeners back in time to the late 1800s – early 1900s. This week's case covers the bizarre story of the so-called professional wilderness guide, Alfred Packer, also known as "The Colorado Cannibal." Marcon and Rucinski give insight on who Packer was, as well as how and why he got the name "The Colorado Cannibal." In addition, the hosts discuss the many deceiving stories Packer told for his reason walking out of the wilderness alone in April 1874. Listen to find out where Packer is today and how close this case really is to Arapahoe Community College.
Rocky Mountain Mysteries would like to make a disclaimer all theories mentioned are speculative/alleged, students Ashley Marcon and Kayla Rucinski are not accusing any individuals whatsoever throughout episodes. All evidence gathered is free and fair public information. The majority of the information and evidence shared is all historical or public information. All sources and evidence mentioned in the second episode are cited. To access the resources used, please head to the homepage  under mysteries explored episode 2: Alfred Packer "The Colorado Cannibal"
Listener discretion is advised.