Wind Shatters Windows in ACC Parking Lot
On Wednesday, April 6, Colorado experienced extreme winds that residents all over the state felt, and one incident here at Arapahoe Community College even left a few car windows shattered.
Most parts of Colorado braced themselves for historic wind speeds with Centennial Airport experiencing gusts of at least 51 mph and the town of Sterling getting hit with winds topping 71 mph, the National Weather Service said.
Littleton and ACC specifically saw speeds between 40 and 60 mph.  Unfortunately, reports of two damaged vehicles came when an alerted student passed by some vehicle damage in Lot A, said Joseph Morris, Chief of Police at ACC in an email.
While in the middle of a meeting, Monica Fuglei, the department chair of the Composition, Creative Writing, and Journalism Department, got a call from campus police. She wasn't able to immediately respond and the first assumption the police had was that some sort of theft had occurred.
"They initially called me, but I was in a meeting and couldn't answer the phone" said Fuglei via email.
"So, Leslie Carpenter, [Administrative Assitant of Campus Police], ran up to my office to let me know. Campus police did a great job keeping me informed as they followed up and pulled the video to see what happened. They asked me to check my car in case it was theft, but they were pretty convinced by the time I got to my car that it was wind damage.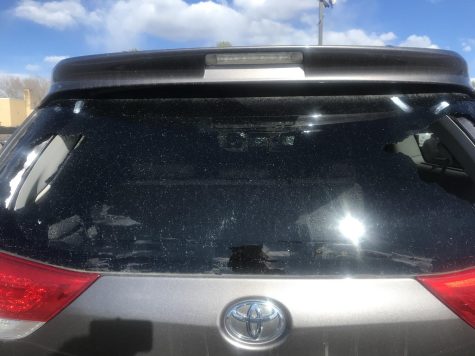 It's clear why police may have thought it was a break-in situation at first, but a closer look at the security cameras revealed it was indeed the wind.
By the time Fuglei made it home, the entire window had succumbed to the wind damage.
But by all accounts, ACC handled the entire situation with ease. They were able to match the license plate number with one on file, which is how they alerted Fuglei in the first place and kept her up to speed as their investigation unfolded.
So, who's liable in this situation, and how does something like this get resolved?
Well, ACC isn't held liable for any wind damage, it's just a bizarre thing that happened.
"I called my insurance company and they said this is a thing that happens sometimes." said Fuglei. She will have a small copay to replace the window, but the insurance company was very understanding.
She is not supposed to drive her car for about two weeks, which is a little longer than normal, but that is because of the supply chain delays happening all over the country.
This situation really serves as a reminder that strange weather is out of anyone's control and it could happen at any time.