Student Open Forum with Chief Joseph Morris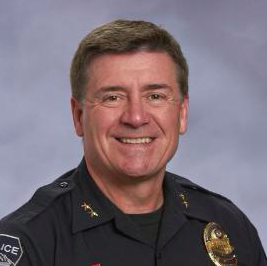 Recent events across the nation and state have given a lot of attention to the works of law enforcement, especially in the critical areas of arrests, use of force, and those factors associated with officer decision-making and discretion. Law enforcement officers from all over are responding to the public's concerns regarding calls for justice system reforms. On March 9, 2021 Arapahoe Community College (ACC) hosted a student open forum zoom meeting with ACC's Chief of Police Joseph Morris. The forum was set up to provide an opportunity for students to interact with the police department that provides for their safety at ACC. Morris along with ACC's campus police are committed to respond to the public they serve and provide as much information about the department, welcome comments, and hear students' concerns and recommendations to better serve the community.
Chief Morris has been at Arapahoe Community College for coming up on nine years in May. In 2013 he became Chief of Police. Right now, the department has twelve sworn officers and two civilians on staff and has been in existence since 1980. The campus police room is located on the Littleton campus, second floor, room M2630.
ACC's campus police's main role on campus is to provide safety for the overall campus, patrolling inside and outside each campus. Not only are the officers put in place to provide safety, but they are also there as a resource for students and staff. They help with access to rooms, guidance and directions on campus, and help find lost or stolen items. ACC's police are highly trained. They focus on a lot of community outreach and figuring out what the students needs are.
During the forum a student asked if there was anything Morris wished the student body knew about the police department. Morris responded that "our biggest hope is that people will come up to us, ask questions and say hello. We are very approachable and try to break those barrios between students and us." The most important thing to Morris is making sure that the ACC building and grounds are secure especially during COVID when no one is on campus.
Over the past year the police department has started working on the bodycam project and are in the process of figuring out the logistics of it. These cameras are not in the field yet, but training begins early April. Hopefully by the fall semester all campus police will have bodycams the size of an iPhone strapped to their chest at all times.
To Morris, the most satisfying thing about his jobs is working with teams on campus and interacting with students directly. He enjoys seeing students take a more active role in their community and school by getting out and talking to people one on one. Morris concluded the forum with leaving students with this, "As the ACC police department, we want you to go out and focus on getting your education and not be worried about safety on campus. You have people who want to serve and interact with you and who are very well trained."