Say Hello to Summit!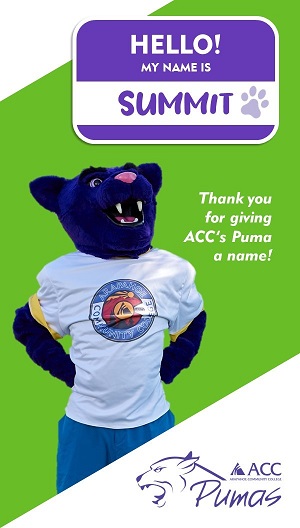 Since Arapahoe Community College was founded in 1965 there has been a wide variety of mascots, however it has been 15 years since the last official mascot retired. In the spring of 2020, a survey went out to the college to help generate ideas for a new mascot. With over 300 responses, leaders from the college decided on one mascot that best represents Arapahoe Community College and that was the puma!
At the end of the Fall 2020 semester Arapahoe's Student Government Association "full disclosure I am a senator on ACC student government" got together to discuss ideas of names for the puma. The puma embodies the adaptability, strength, and perseverance of the students, as well as everyone who works at Arapahoe Community College, and student government wanted to reflect that in the puma's name. As many names were drawn up and thrown around, student government decided on ten names they would present to the student body to vote on in a survey. On February 15, 2021 Arapahoe Community College's student body president Kim Johnson sent out a survey to all students and staff containing a list of names for the puma as well as a section to write in additional names that were not on the list. The list of names people could choose from includes: Acey C., Motivadora, Paws, Peak, Pounce, Powell, Sneffels, Spruce, Summit, and Torry. Students, staff and faulty were given until February 20th to submit their answers so that on February 22nd student government could discuss the results in their weekly meeting.
On Monday February 22nd, ACC's student government met to discuss the results. The results were divided up into two parts, ACC's first choice and ACC's second. Over 600 people voted for the names on the list and over 200 people wrote in additional names, most of them starting with the letter P. The results showed that Summit had the most votes for the first choice and Paws came on top for the second choice. As student government discussed the results, they decided they want the name to reflect the majority of the school's interest so they stuck with the top choice and decided that Summit would be the name of the puma. The group gave the student body president Kim Johnson two names that she would then present to the school leadership board on Thursday February 25th, the first being Summit and Paws as a backup.
The leadership board approved of the name Summit agreeing that the name best represented ACC and its people. On March 1st, Summit was officially announced to the school. Both staff and students are thrilled to welcome Summit to Arapahoe Community College and cannot wait to see him at future events!