Black Women and Political Leadership
To help commemorate Black History Month over 60 participants joined Oakland Public Library via zoom, on Wednesday, February 3rd from 6p.m.- 7:30p.m. as they presented Black Women and Political Leadership. Oakland History Center librarian, Dorothy Lazard, hosted Alicia Garza, principal of the Black Futures Lab  and co-creator of Black Lives Matter. Also in attendance was Carroll Fife, the newly elected Oakland councilwoman and Moms4Housing advocate, Linda Burnham the co-founder of the Women of Color Resource Center, and Judy Juanita the local author and former Black Panther Party newspaper editor.
The women discussed the developing roles and the influence that Black women have had in political leadership over the past few years. Other topics discussed were the important milestones in American politics that took place in 2020, specifically in the roles black women played. Throughout the past year black women rose up and participated in grassroot organizations, criminal justice reform, activism protests, and were elected to high political roles. These four women shared their life stories and the roles that they are currently playing in this political reformation. As Judy Juanita stated, "this system is broken everywhere, and we have things to do."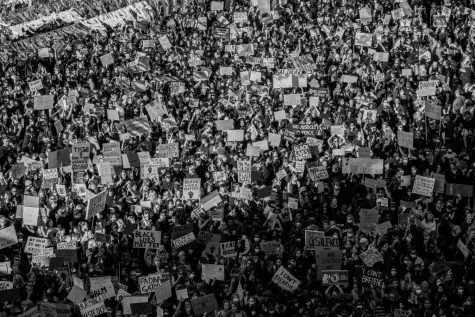 The phrase, "it is not enough to have black faces in high places," was the main topic for the evening. These women mandate there are more black women in position of power with their same values and visions, who are ready to move the agenda and move the lives of real people. Alicia Garza went on further to explain that, "Ever since this country was founded, we have had our decisions and rules made by old white dudes. They were designed and intended to solidify their roles of power and it has been that way for hundreds of years, but this decade is the decade of change."
Throughout the night these women continuously mentioned an "agenda", and while they did not go into detail of what the agenda entails, they do hope to defund the police and provide free healthcare for all. Going off of their agenda, Alicia Garza brings up the point that over the past year, society has begun to conflate hashtags with movements and while hashtags are a way to follow issues online, movements are a way to fight for the way a group wants it to be and get people together. By bringing communities together and shedding light on the political issues going on in America this group of black women hope to change rigged rules and continue creating new milestones.