Go Vote! The Denver Broncos Host a Powerful, Informative Virtual Town Hall
The Denver Broncos teamed with Colorado Secretary of State, Jena Griswold, to encourage everyone to vote.
The Denver Broncos are more than just an NFL team. They are deeply invested in community engagement and are strong advocates for making sure all citizen's voices are heard.
On Sept. 22, 2020, the Denver Broncos joined forces with Colorado Secretary of State, Jena Griswold, to host a Virtual Town Hall meeting for National Voter Registration Day. They were joined by Diahann Billings-Burford, CEO of Ross Initiative in Sports for Equality (RISE); Devontae Harris, Cornerback for the Denver Broncos; and Judd Choate, the Colorado State Election Director.
The goals of the meeting, according to Allie Engelken, Executive Director of Community Development for the Broncos, were to "highlight National Voter Registration Day, emphasize the importance of registering to vote and casting your ballot, and educate on how to register, how to vote in 2020, and what information will be included on this year's ballot."
Billings-Burford, opened by thanking the Denver Broncos for partnering with them on voter education. "We don't only think this is about telling people to register and telling people to vote, we need to be having conversations across our nation about why we are voting. What is democracy supposed to be? What is our government supposed to be, for us? And, what is our role supposed to be in that process?"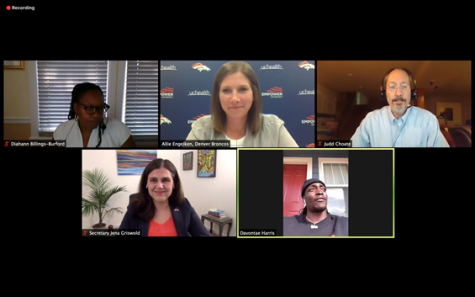 Secretary Griswold said, "We take a lot of pride in our election model because it's the nation's best. We believe that every community deserves access. These are our constitutional rights. This is how we have our voices heard. This is how we shape our future." She encouraged everyone to make a plan to vote. Griswold wants everyone to know that Colorado set a record turnout for the State Primary even during the pandemic.
Choate shared a power-point presentation that outlined the voting process. He directed the public to go to govotecolorado.gov where voters will find the answers to all questions regarding voting including finding out how to vote, if your voter registration is up to date, and what to do if you do not have a Colorado Driver's License. A key feature mentioned was that voters can sign up for ballot tracts, which allows voters to track their vote. If a voter is already registered to vote they will receive a ballot in the mail. Ballots are mailed out three weeks before the election. To vote by mail, voters need to fill out the ballot, then it seal it in the return envelope and sign the back of the envelope in the signature block. Make sure the ballot is received by 7:00 pm, Nov. 3rd. Post marks do not count. Choate said there is a bipartisan team of judges that confirm that the signature on the envelope matches the signature on file for that voter. Voters may also take their vote to any drop box or vote in person at polling locations. There are 350 drop boxes and 350 polling places around the state. Voters are able to register to vote on election day and have until 7:oo pm to vote as long as they are in line.
This year Coloradans will be voting for: President of the United Sates, U.S. Senator, U.S. House of Representatives, Citizen's Initiatives, Local Initiatives, Local Initiatives and Judge Retention.
Harris said he was in the 8th grade when his uncle took him to the voting polls. Although he was too young to legally vote his uncle allowed him to cast his vote for him. "Voting is just a huge deal", said Harris, "This is our time to really utilize our voice." He said, "It's just like our team; if one person does it that's fine, but if everyone does it then that's an impact."
During the meeting people were given the opportunity to post questions and comments in the chat. Attendee, Amelia Schafer, posted, "The Broncos are such amazing community leaders. Thanks for leading this effort."
To get more information go to govotecolorado.gov.