Denver Democratic Socialists of America Call to #CancelRent
On Wednesday, April 1, 2020 the Denver chapter of the Democratic Socialists of America hosted a virtual press conference on Zoom called #CancelRent, which advocated for a freeze on rent and mortgage payments as Coloradans endure the COVID-19 pandemic. With the U.S. Department of Labor reporting 3.3 million new unemployment claims the same week that Colorado Governor Jared Polis ushered in the statewide stay-at-home order, many Coloradans are struggling to pay their rent this month.
The press conference began with testimonies from service workers who had recently been laid-off from the closing of non-essential businesses due to the March 23, 2020 stay-at-home order issued by Mayor Michael Hancock. While all of their backgrounds, careers and cultures were different, these workers' stories shared one common theme – deciding on whether to spend their last paycheck on rent or food and medication.
The next speaker was Josh Downey, President of the Denver Area Labor Federation. Downey spoke about how he appreciates some of the benefits provided on the federal level from the CARES act stimulus package, but that it just isn't enough and puts too much money into the pockets of the rich. With the U.S. Department of Labor reporting 3.3 million new unemployment claims the same week that Colorado Governor Jared Polis ushered in the statewide stay-at-home order.
After that, Denver's D10 councilman Chris Hinds, discussed how the COVID-19 outbreak has shown the fatal flaws within our capitalist system and how much our society depends on the exploitation of workers. When businesses depend on paying their workers as little as possible to maximize their profit, society begins to crumble during a crisis like this.
Aurora city councilman Juan Marcano, spoke about his recent requested resolution to ask landlords, banks, mortgage companies, and rental businesses to show leniency and provide accommodations to those who are struggling to make ends meet during the crisis. Marcano hopes that as the resolution moves forward, Governor Jared Polis and Senator Cory Gardner will be supportive of it.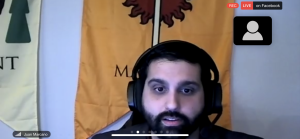 Denver's D9 councilwoman Candi CdeBaca expressed the desperate need for a rent freeze, pointing out how little Trump's stimulus package offers to someone dealing with the cost of living in Colorado,  "this stimulus package doesn't even cover this area's median rent" CdeBaca stated. Along with a rent freeze, CdeBaca also pointed out that many residents will be struggling to pay their property taxes as the pandemic continues.
The last speaker of the night was Denver resident, Elina Rodriguez, an administrative assistant at a small law office that services people with disabilities. Rodriguez explained the unique stress she felt as the virus began to spread, as she herself has a auto immune disease that makes her extra vulnerable to COVID-19. Everyday before the stay-at-home order was finally announced she would fret wondering if today would be the day she could get exposed. While the eventual stay-at-home order did bring her relief, it also unleashed a completely different world of problems, "It's stressful to feel uncertainty as to whether or not I can pay my bills, but I know I'm not alone" Rodriguez states, "we must stand in solidarity with those who can't pay rent, because even if you can pay your rent now, who knows how long it'll be until you can't."
The Denver DSA has started a petition to cancel rent in Denver which you can sign here.
The press conference can be viewed in its entirety here.