Colorado's Response to COVID-19 – A Virtual Town Hall
As of March 28 2020 the United States has 122,246 confirmed cases of COVID-19 worldwide. The state of Colorado accounts for 2,061 cases and 13 deaths. In an effort to flatten the curve of the spread of COVID-19  Colorado state governor, Jared Polis, has issued a stay-at-home order effective March 26 2020 at 6 a.m. until April 11, 2020 unless rescinded or modified by further Executive Order.
The Pinnacle joined a virtual Town Hall via Zoom on March 27 2020 hosted by State of Colorado Representative for House District 31 Yadira Caraveo and Faith Winter Senator of Colorado District 24 to get an update on Colorado's ongoing COVID-19 response. The Town Hall began with updates provided by Mara Brosy-Wiwchar, legislative and policy director for the Colorado Department of Public Health and Environment (CDPHE).
The state of Colorado began efforts to prepare for COVID-19 after hearing about the spread of the virus in Wuhan, China in early January 2020. After the first case, Colorado quickly went into a state-wide emergency operation command. This operation includes command from the Department of Public Safety, CDPHE, as well as partnerships and coordination with local public health to bring relief to counties and get more equipment and testing supplies into our state. This also includes tackling lay-offs and unemployment the state has experienced and making sure students have access to resources and online learning as Coloradans navigate this pandemic.
Following updates from Brosy-Wiwchar, an agenda was given in the form of a slideshow covering summaries of the legislature's suspension, executive orders for the state of Colorado, the Governor's Stay at Home Order, and community resources for COVID-19.
On March 14 2020, the legislature voted to suspend sessions due to COVID-19 concerns until March 30 2020. These offices are operating remotely and conducting constituent casework throughout the crisis and are in daily contact with the Governor's office.
Executive orders due to the presence of COVID=19 prior to Stay-At-Home orders were highlighted

3/11/20- Colorado declares a Disaster Emergency
3/18/20- Colorado orders suspension of normal in-person interaction at all public and private elementary and secondary schools in the state
3/19/20- Colorado orders temporary cessation of all elective and non-essential surgeries and procedures to preserve personal protective equipment and ventilators in the state
03/20/20- Colorado orders the Suspension of Statute to extend the income tax payment deadlines due to COVID-19 disaster emergency as well as ordering limiting evictions, foreclosures, and public utility disconnections and expediting unemployment insurance claim processing to provide relief to Coloradans affected by COVID-19
03/22/20- Colorado orders Colorado employers to reduce in-person workforce by 50%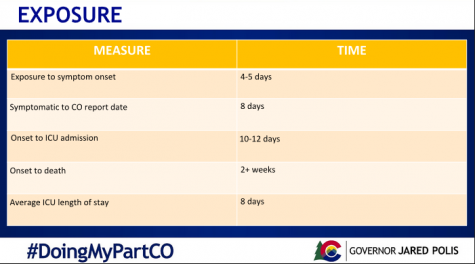 These restrictions are meant to enforce the social distancing process, help "flatten the curve" and protect our most vulnerable population. Flattening the curve means decreasing the rampant amount of cases to prevent our health care system from collapsing. If we do not take these aggressive actions, hospitals will not be able to properly help patients, providers will get sick, and the economy would fall apart. Success in this process would include hospital systems to have the capacity in the time needed to treat patients, no catastrophic breach of our healthcare system, planned hospital surge capacity, testing, and PPE and the quickest possible return to economic normalcy.
To apply as much social distancing as possible residents of the state of Colorado must stay home unless they are going to an essential business or doing an essential activity. "It takes 12 days for the benefit of stay home order to show up because of the incubation of the virus. Now with the stay at home order, we won't see the impact until April 7th," said Senator Winter.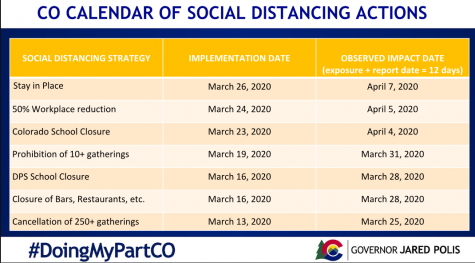 The Town Hall concluded by providing resources to help Coloradans affected by COVID-19 and ways that healthy and low-risk residents can volunteer.