Jazz Fusion and Pop Rock concert at ACC
On Friday, Dec 6. 2019, Arapahoe Community College's Music Department hosted the second performance of the four-concert series. On December, 3rd the choir performed, on the 6th the jazz fusion and the pop/rock ensembles performed. Upon entering Waring Theatre, at ACC's Littleton Campus, audience members were met with a large projection of color-changing shape-shifting visuals, as an old school mp3 player might display.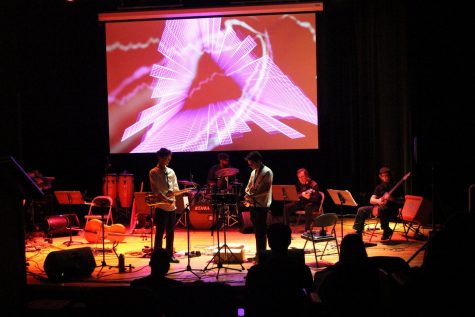 The night started off with ACC's student Jazz Fusion band. Playing well-known jazz songs and also songs completely improvised, the Jazz Fusion band put on a very energetic and upbeat performance.
Members of the audience were observed recording on their phones, applauding during and after songs, and dancing along to the music. The band themselves had great stage presence in that they were both communicating with each other and also speaking to the audience directly.
Their communication among each other proved to be very strong, especially in moments of experimental improv, no one had to say anything to each other, and yet they were all on the same page musically.
After the Jazz Fusion band, the Pop Rock ensemble took the stage. Noticeably larger than a regular band, the ensemble took their places on stage, ready to surprise the audience. 
Singing songs like Escape by Rupert Holmes (more commonly known as the pina colada song), What's Up? by 4 Non-Blondes, and Plush by Stone Temple Pilots, the Pop Rock ensemble easily got the audience singing along. Between the enthusiasm of the performers and the all-around musical talent, it was difficult for some to sit still in their seats.
It seemed as though everyone in the ensemble knew how to play at least one other instrument. After each song, everyone seemed to trade places in away. The vocalist in one song was the guitarist in another, and the guitarist played the keyboard in another song and so on. The ensemble surprised the audience with their last song, a mashup between Metallica's, Sad But True and the Gorillaz song, Clint Eastwood. The two songs, while very different, was very well executed by the Pop Rock ensemble, and left the audience with a memorable experience.