Lots and Pots of Holiday Shopping
On Thursday, Dec. 5, 2019, Arapahoe Ceramics Guild began the Holiday Pottery Sale that spanned across three days at Arapahoe Community College's Littleton Campus. All pottery sold in Half Moon this last week was created by "professional potters, ceramic students, and alumni from Arapahoe Community College." Artists had their own tables set out to display their pottery for sale and their names, as well as business cards, were set out on the tables for customers to learn more.
Above many of the tables full of pottery, photographs hung, displaying how certain techniques are used in pottery. Some even had written descriptions along with photos, so that customers could fully understand and appreciate what the artists had put into the pieces they were selling. 
In addition to tables set out for each artist, there was also a table set out for food on the opening night, and a hold table. The holding table allowed customers to pick out what they wanted to buy and set it aside for up to two hours while they continued to hunt for their next piece of pottery, without taking the risk of breaking anything while carrying it, or of someone else swiping up a piece they wanted to buy.
In order to properly use the hold table, customers had to fill out a little slip of paper with some basic information such as their name and phone number, to put next to the pieces they were saving to buy. The ACG also had a free raffle for the chance to win a few different items such as a set of handmade mugs, and a set of handmade bowls. 
Little "trees" of handmade coffee mugs were also scattered around Half Moon. Most mugs were priced between ten dollars to twenty dollars, depending on the detail and size of the mug. According to the ACG website, " The Guild donates a portion of sales to ACC's Clay Club for educational workshops and materials for the ACC Ceramics studio." To stay updated on sales and events, the Arapahoe Ceramics Guild also has a Facebook page.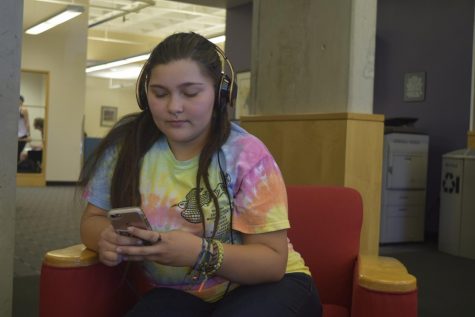 Kalyca McGuire, Reporter
Kalyca is a first generation college student studying journalism at ACC. She plans on transferring to a four-year university to get her bachelor's degree. She loves music and all things music related. In her free time you'll probably...