Women in Tech: Edition One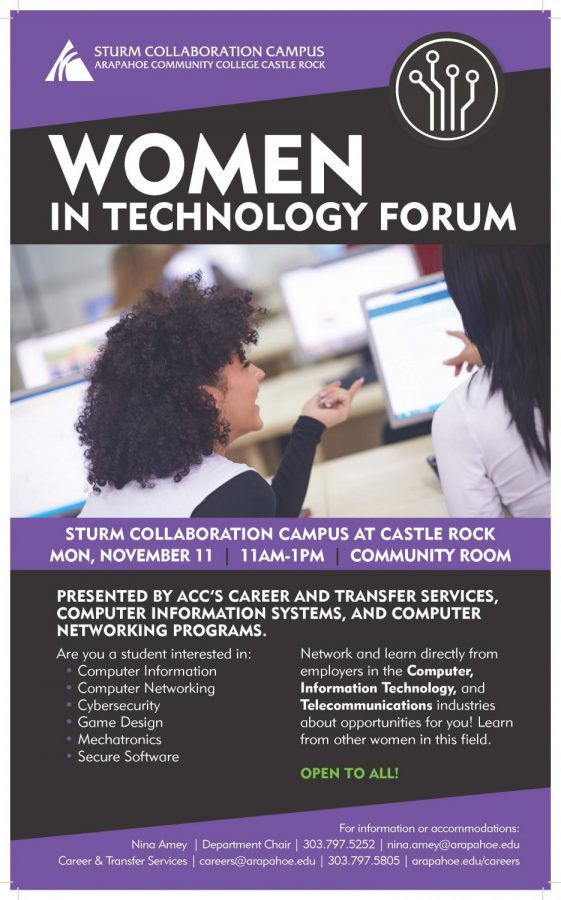 With the opening of the Sturm Campus in Castle Rock, Arapahoe Community College (ACC) has opened new doors in the tech world, especially for women. On Monday Nov. 11, 2019 ACC was asked, after receiving a recent grant, to host a Women in Tech event to help promote and encourage more women to consider and enter the tech industry.
The event started at 11 a.m. and continued until roughly 1 p.m with a lunch, an open Q&A, and a chance for participants to talk one-on-one with panelists and table hosts.
when asked why the event was important to have, Shari Culver, Director of Career and Transfer Services at ACC, commented "There continues to be an overwhelming number of employees in the workforce who identify as male. Because this is such a growing industry that will work to solve many of the problems of our future, we need to get a better balance in the workforce of this industry." 
At the event participants were provided a free lunch while they got to listen to the guest speakers discuss their time in the tech-based work force and were free to ask any questions they had. Culver stated "we invited women working in industry to come and be a part of a panel and share, and then we invited all ACC students, local high school students, and prospective students to attend and learn."
The panelists at the event included: Nikki Lawrence (Raytheon), Sharon Mudd (Pearson), Shannon Block (Skillful Colorado), Page Jeffery (Trace3), and Shannon Welton (Presidio). From 11:30 a.m to 12:00 p.m. the panelists spent their time introducing themselves and their own personal experiences of being women in the workplace and being a part of this industry. 
After introductions, participants then had the chance to have an open Q&A with the panelists and ask any questions they might have about a specific job, the tech industry for women, and more.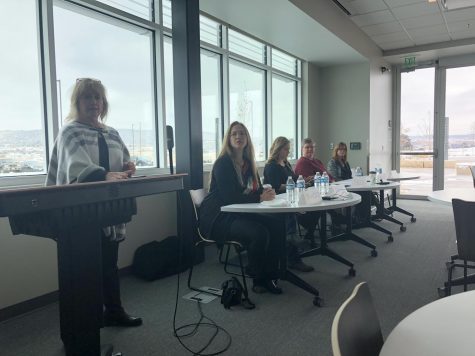 At 12:15 p.m. there were table hosts that participants could have one-on-one time with. Those included were Mary Blackburn (Brooksource), Alyssa Brown (Apex Systems), Clare Huspeni (NerdsToGo), Ali Emmons (Optiv), Helen Maijub (ServiceSource), and Taylor Kitchin (Sprint). Also, at this time the women at the event could speak with the panelists one-on-one, in case their question wasn't answered, or they wanted to ask it by themselves.  
The event came to an end at 12:45 p.m. as they wrapped it up with the closing comments and a free registration drawing. 
Culver made it clear that she intends on making this event happen again, in case you were unable to attend. "This was our first time hosting an event like this. We definitely plan to host it again and open it up to other campuses." 
If you have any further questions you can reach Shari Culver at 303.797.5705 or at her email, [email protected]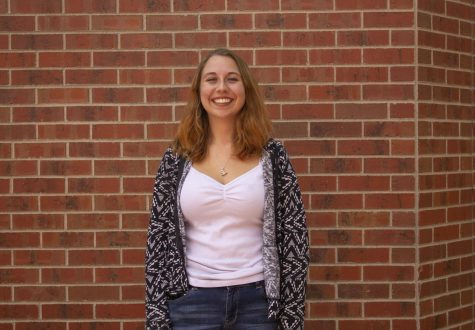 Kaleigh Weigum, Reporter
Kaleigh is currently partaking in her first college-level journalism class. Kaleigh acquired an interest for story-telling after participating in her high school newspaper and yearbook for two years. In the future, she wants to be...