At the First Gen luncheon, Dr. Doyle announces support, claiming 'ACC is your champion.'
College can be challenging to navigate during your first year, especially for first-generation students. From figuring out how to pay for it, to filling your the Free Application for Federal Student Aid  (FAFSA) and choosing the right courses for your degree path. Students can face bigger challenges without proper guidance. Arapahoe Community College recognizes these students and held the First Generation Student Luncheon in the Summit Room on Nov. 6, 2019, to support and discuss the strengths that first generations students experience.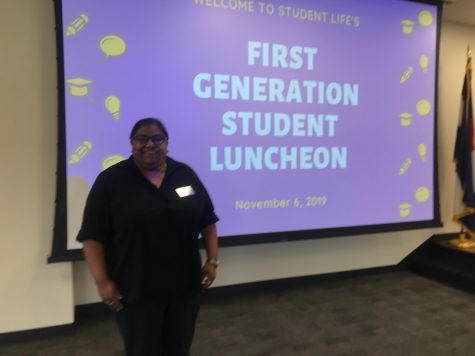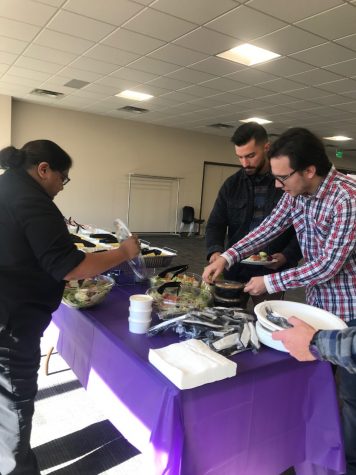 Sarah Lindahl, the Activities Coordinator at Arapahoe Community College, organized the First Generation Student Luncheon.
"I'm a first-gen student so it is something that hits very close to home for me and I also want to be support for students" Lindahl expressed.
NASPA (Student Affairs Administrators In Higher Education) defines first-generation as someone who does not have a parent who has obtained a four-year college degree. Therefore, the student may lack the critical cultural capital necessary for college success
Guests attending the luncheon were seated in small groups and were provided ice breaker cards. Introductions were followed by Olive Garden alfredo and marinara pasta served buffet style. The luncheon began with a speech by the president of ACC, Diana Doyle, who is also a first-generation college student. Diana gave an articulate speech about her experiences navigating college and emphasizing that every student needs a "champion". For first-generation students, there is someone in their lives who encouraged them in some way to pursue higher education, whether it was a family member or a friend, a champion in their lives will leave an impression about college.
"It's important to me from the minute you think you want to come to ACC… somebody reaches out to you, and somebody gives you information, somebody listens to what your dreams are to what your goals are, somebody becomes that champion," said Doyle. She ended her speech with three challenges for first-gen students: ask questions, be involved and join an organization and challenge yourself to have high goals.
An activity consisting of questions about challenges and resiliency was done where answers were written on sticky notes and discussed among groups then later posted on white papers underneath the questions around the room for all participants to see.  The luncheon concluded with a gifted scholarship from ACC to all students in attendance. This event is hosted in coordination of First-Generation Student Awareness Month. Students are encouraged to attend the next event on Nov. 19, 2019 for a First-Generation Faculty and Staff Coffee Hour in the Half Moon at the Littleton Campus.