How are School Closures Determined at ACC?
This is a re-run originally published in OCT 2019.
Snowfall in Colorado can be a tricky thing to determine. Even the most reliable weather sources and meteorologists do not always get it right. After the snow last week, students and faculty at Arapahoe Community College were left curious about how school closures are determined when we receive so much snow.
We spoke with the president of ACC, Diana Doyle, to learn more about the procedures that are taken when we are expecting a snow day.
Each situation is taken on a case by case basis.  A delay, school closure or early dismissal is determined by the time of day it is, if the snow is happening overnight or in the morning and how it will impact the drive home or to campus for students and faculty.
Guidelines are set for each determinant. For example, if the snowfall is declared by weather sources to fall overnight, ACC will make sure to notify students and faculty by 6 a.m. the following day for either a snow day (school closure) or a 10 a.m. late start. If students and faculty are already on campus and there is snowfall, then ACC will determine if an early dismissal is necessary. Students and faculty will be notified two hours in advance to ensure that students not yet on campus do not make the drive out.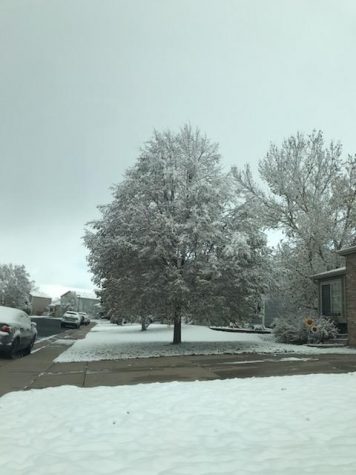 Local news channels and national weather predictors such as weather.com, weatherbug.com, and wunderground.com/intellicast are among the sources used to determine the length of time the snow will fall. Ultimately, whatever the snow is going to do determines the choice made.
Requirements for higher education systems do not follow the same guidelines that a school district does. In some cases, school districts will close when school buses cannot drive in the snow and as we know a community college system does not have school buses. Employees and faculty that do have children are encouraged to have a plan B in place for days when school districts are closed but colleges are not.
In the community college system, the president has the final decision on snow closures. However, Diana Doyle is not the only one who makes that decision for school closures at ACC. The presidents of all five community colleges in the metro area, the facility director and crew are all involved in the conversation. All ACC campus locations are also considered.
Jeff Duggan, the communications coordinator at ACC, alerts local tv stations who collaborate with local radio stations and someone from the marketing team updates social media about the snow day course of action. The information is posted on the school's website and notifications are sent to students via text and email.
Last year ACC closed two or three times due to the bomb cyclone. Thankfully, on a day when school closures are announced, faculty members can use the D2L shell to have class and assignments online for students so made up school days are not necessary.
"We try to do everything with the safety of students and employees in mind. That is the bottom line", said Jeff Duggan.