Lorin Ball
After nearly a dozen seasons competing on NBC's American Ninja Warrior, this stunt man opened his own gym to pass down what he knows.
HENDERSON COLO- It seems like a pretty far commute from the commerce of Littleton and the city life of Denver. But that's where Flow Vault-previously named Ninja Brand-parkour gym is located.
Parkour (pronounced par-core) is defined by the Oxford dictionary as "the activity of moving rapidly through an area, typically in an urban environment, negotiating obstacles by running, jumping and climbing."
The drive to Flow Vault can be anywhere from 30 to 60 minutes depending on traffic, but is well worth the trip. Upon entering the gym, you are met with a friendly face of one of the coaches at a front counter, inside a seemingly simple office-like waiting room; water fountains, snack machines, and a few chairs lining the walls.
All participants of the gym need to sign in and, or sign a release form. This assures that if anyone gets hurt, the proper contacts are notified, and the gym is free of any legal troubles; standard for any athletically based facility.
As you exit this modest waiting room you're greeted with what can only be described as a parkourists paradise.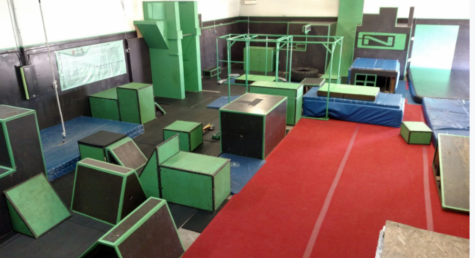 Green bars and boxes contrasted with the red mats that decorated the large space in such a way as to make it seem like a giant jungle gym. Complimented with blue crash pads strategically lined the obstacles to prevent injury.
Lorin Ball, the owner of the gym came to greet me as a school of children ran around, jumping and playing behind him. Their excitement ran ramped as they climbed and bounced off all the colorful, shaped structures.
Flow Vault Parkour gym contributes to a handful of young community programs. "The school district around here has a four-day school week, and since the parents like their kids to be active on days off, they bring them here along with other home-schooled kids. Which have a pretty big community out here [in Henderson]," Ball states.
This isn't the only example of how Ball and his team cater to the younger crowd. They frequently hold camps for the kids during times where the school isn't in session, such as long breaks and some weekends. They also have a "parent's night out" event where parents drop off their children for several hours at the gym so they can play games and watch movies.
Lorin Ball has always been one for building growth in communities through physical fitness. But his passion for athletics didn't come from anywhere. Ball stems from a Philippino heritage and spent his early years living in Hawaii.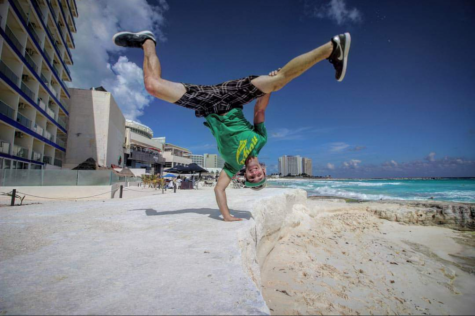 "A wide range of the Hawaiian culture is inspired by the Asian community," says Ball.
At a young age, he was exposed to the world of martial arts movies that featured such stars as Jackie Chan, and Bruce Lee."These movies were like my Sesame Street. I would wake up in the morning, grab a bowl of cereal, and my mom would pop in a VHS."
But it wasn't the storytelling or plot of these films that enamored young Ball, it was the choreography. "I knew it was something that I wanted to emulate or apply as a hobby or even a career." He says.
This obsession with dynamic movement, along with his natural skills eventually molded him into an armature action filmmaker. "I would hustle all of my friends in the neighborhood into being actors for whatever action movie I wanted to film" he explains, making hand motions to how he would throw his friends off of rooftops onto cushions or mattresses.
It was these camcorder home movies that fueled his childhood obsession into a future lifestyle.
As Ball entered his mid-late teens, he wanted to grow in martial arts and film-making. This led to a couple of years of taekwondo as well as participating in any gymnastics program he could find.
"I was looking for anything to make myself more like Jackie Chan," Ball excitedly expresses.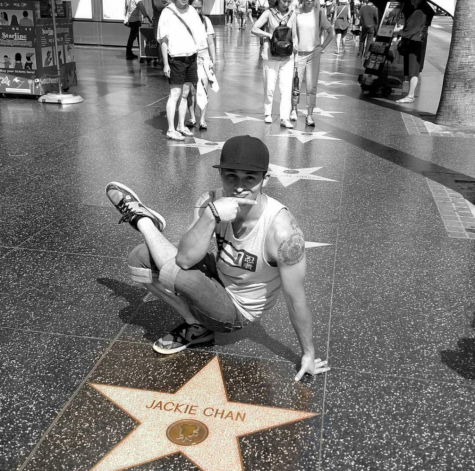 The one aspect about Jackie Chan that Ball enjoyed most was his ability to utilize his surroundings. In several of his earlier Chinese films, Chan would be filmed running up walls and jumping through windows. This inspired Ball to replicate a lot of these stunts in an outdoor or urban setting.
In his late teens, Ball discovered that there was a name for what he was doing, along with a strong community behind it: Parkour.
Upon becoming an integral part of the parkour community, Ball honed his skills by practicing with his peers and establishing an online presence within the forums that connected these groups.
"This was pre-YouTube, so forums were how we connected with like-minded individuals," explains Ball. This presence in the community led to a connection with a stunt crew named Hybrid Free Running. "They took me under their wing, showed me the ropes, introduced me to filmmakers and told me, 'hey, there's a thing called American Ninja Warrior and we're all making audition videos'."
For those unfamiliar with American Ninja Warrior (ANW), it's a televised multilevel obstacle course featured on NBC. Athletes from across the country send in audition videos displaying their physical capabilities and personality in an attempt to compete for the grand prize of one million dollars.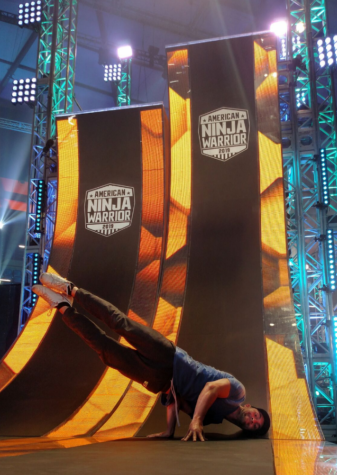 Ball was amongst the founding crop of athletes to send in audition videos for the very first season of ANW. Luckily, he got accepted and from then on has been featured on every season of the show thus far.
When asked about the pressures of performing on a national stage, such as an NBC reality TV show, Ball explains that his past stunt work on movies gives him an edge.
"I was fortunate enough to enter [American] Ninja Warrior after having a minimal career in entertainment. A lot of times we would have to perform in front of a camera with a huge crew and you would have everyone there judging you because that was their job. Now imagine doing that 20 times because you need the perfect shot for that stunt."
However, it was the vigorous repetition of film making combined with his physical capability that gave Ball the advantage he needs every season to perform unhindered by the stress of the public eye.
But how does this amateur stuntman turned reality TV star get to where he is today? That question can be answered by looking at the state of Colorado and the impact that the stunt industry has on it.
"It doesn't," says Ball. "I've never heard of anyone who is extremely successful in the stunt industry in Colorado. No one here just does stunts, there has to be something else."
With Ball needing to supplement his income as a stuntman, with the will to do something he was passionate about, he took to teaching at gymnastics gyms. This allowed him to hone his skills, make some money and become familiar with how to teach and run a gym.
This soon led to Ball running his own programs. These programs would combine his knowledge as a stunt man with the basics of parkour and the skills he had acquired as a contestant on multiple seasons of ANW.
Because of the popularity of the show, and the enthusiasm its younger viewers have towards fitness, his programs gained so much popularity that one coach couldn't handle them all. This led to hiring other coaches and then eventually needing their own space.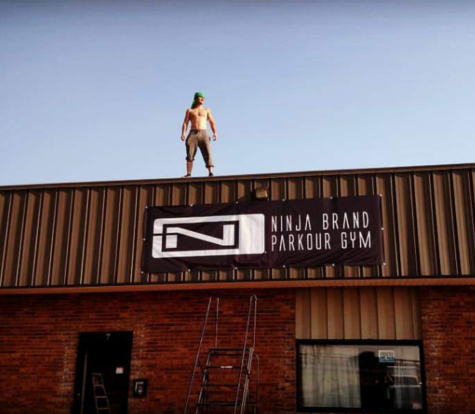 *Flow Vault parkour gym was previously known as Ninja Brand parkour. This was due to a sponsorship deal that is coming to an end. Ninja Brand is still working with Ball and Flow Vault, but the name of the facility will be changing.*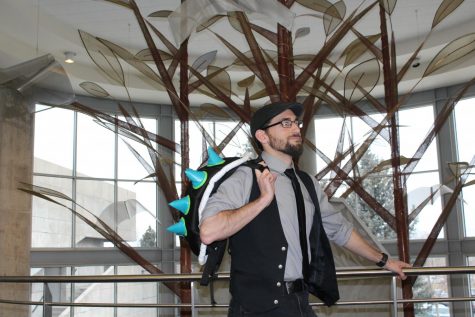 Dylan Boxer, Entertainment and Culture Editor
A veteran to the Arapahoe Pinnacle, editor Dylan Boxer is known for his quick wit and lightheartedness within the publication. When his not writing you can usually find him outside on his long-board or inside working on his next cosplay....