Constitution Trivia Day
It's the 232 anniversary of the signing of our constitution and to celebrate, Student Life hosted Constitution Trivia Day at Arapahoe Community College on Sep. 17, 2019.
Zachary Vultao, a student engagement coordinator for Student Life at ACC sits behind a table decorated with red white and blue and a spin wheel. Vultao is hoping to promote student engagement in the knowledge of our constitution and raise awareness for voting season. A student comes up to spin the wheel and the arrow lands on a red piece labeled 'level two'.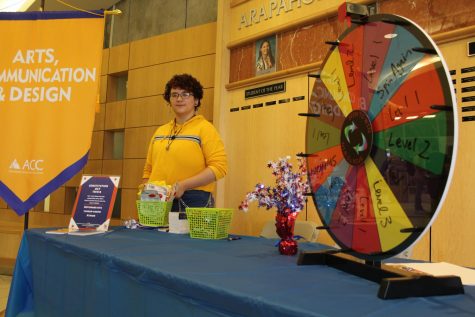 "The Bill of Rights is A: The first ten Amendements, B: The 15th Amendment, C: The entire constitution or D: All of the Amendments." Questions Vultao.
The student answers correctly with A, and is offered their choice of silly puddy or a beach ball. The student takes the silly puddy as well as a pocket constitution.
Nearby is Jan Brennan, Director of the Campus Election Engagement Project for Arizona, Colorado and New Mexico. She heard about ACC's event and wanted to take pictures to promote to other schools across Colorado.
"Arapahoe Community College is really a stand out not just in the state but actually nationally." Says Brennan.
A study performed by National Study Of Learning, Voting and Engagement from the 2012 and 2016 elections based on enrollment records ACC submitted helps guide colleges in government election engagement. This study by NSLVE showed data including how many students registered to vote, turned out to vote, and what kind of students are voting. While it may be tougher to get students registered and engaged because students do not live directly on campus, ACC has one of the highest community colleges in the United States for voting participation, according to NSLVE.
With local elections coming up Nov. 5, 2019, students at ACC are encouraged to go to GoVoteColorado.com and register to vote through election day. There, you can also check if you are registered, update your address and even change your party affiliation. Colorado makes voting easy with ballot drop offs and mail in ballots as well.
"Particularly in local elections like this one in 2019. . .7 times more elderly people vote than young people. . .so who do you think politicians pay attention to?" Asks Brennan.