Giving High Schoolers A Head Start With Concurrent Enrollment
Note from the Editor: The third week of February has been named "Concurrent Enrollment Week in Colorado" by Gov. Polis. In recognition of this, the Pinnacle rewinds to a classic documenting ACC's own program.
On the second floor of the Littleton Campus at Arapahoe Community College is the concurrent enrollment office where Steven Medina and his staff of 5 specialists are working hard to see students across the Denver metro area prosper at ACC.
The concurrent enrollment program is a dual enrollment program which allows students to earn college level credit while in high school, free of charge to the student. Not only do students save time and money, but concurrent enrollment is also a solution to the deep-rooted inequities across the state.
Medina, born and raised in Pueblo, Colo., is a Chicano from a single parent household. He started with a degree in business at CU Boulder and after a study abroad trip to Mexico his junior year, decided he was studying the wrong degree. Because he was on financial aid and in his final year of his degree, he had no choice but to finish it. Thereafter, Medina fell into a career at CU Boulder in administrative assistance and started working on his masters in Student Affairs and later started teaching. After 21 years in his career, he reflected on the reason he was doing the work that he was doing. For Steven Medina it was deep values that caused him to be so driven.
"I had this strong feeling of obligation to lift those who come behind me" stated Medina.
After deciding that his career at CU Boulder didn't fit the bill, he moved on to become the college counselor and student affairs generalist at Colorado Mountain College, where he received exposure to the concurrent enrollment program. This community college served a high school of about 300 students, 85% which were of recent immigrant experience where the home was of dual-citizenship. In the six years Steven Medina was there he moved 15% participation to 85% in the concurrent enrollment program.
"Concurrent enrollment, if structured wisely, can be a vehicle for undocumented students to get a degree before they graduate high school" says Medina.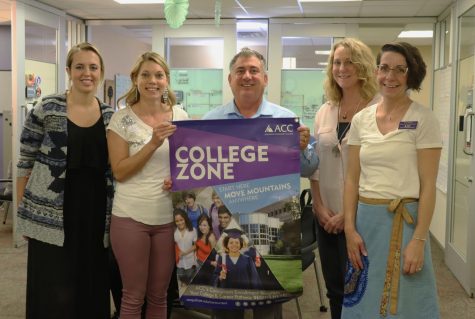 In 2009 the concurrent enrollment act was set forth by legislation between community colleges and high schools across Colorado to clarify funding in how the would provide these college courses to the students. The program had 45,787 students participate in 2017-2018 in Colorado, 35% of all eleventh and twelfth grade high school students. There are approximately 6,000 students participating at Arapahoe Community college which serves 8 districts.
There are two ways a student can participate in this program. About 5,500 of the students enrolled take college courses that are provided by a high school faculty member on their high school campus after meeting pre-requisites required by the college. Teachers at these high schools are required to meet credentials, receive in-class observations, and teach the course as required by the college outcomes. Students can also opt to take their college courses on campus if they have met all their high school requirements.
The second way that a student can participate in this program is through Ascent (accelerating students through concurrent enrollment) which is a way to serve underrepresented students who want to opt to extend their high school graduations by one year in order to achieve an additional year of college courses free of charge. There are only 500 spots and it is a competitive program.
Jacob Lemay is a third-year senior and a participant in the concurrent enrollment program at ACC's Littleton Campus. He says that his older brother also participated in the program and that's what piqued his interest. When asked what he has benefited the most from the program, Lemay responds, "being able to experience college before I go into it. When I actually go into a four year, I will know what it's like."
ACC has experienced growth in the student body is due to concurrent enrollment. There's a Concurrent Enrollment Club that hosts biweekly meetings every other Tuesday at 12 pm on the second-floor lounge.