Hearts in the Park
From Athens, Greece to Milwaukee, Wisconsin and back
In the back streets of Athens, Greece near the Candia Hotel where we stayed during our visit, I walked past Larisa Station Park and witnessed the future of soccer, which many know as foot-ball. An intense game is at hand. I surprisingly see young Somalian guys playing on black top courts, not grass.
Approaching the exhilarated scene, I got a sense that maybe I should shake a few hands to introduce myself. By doing just that, I could see in their reactions they were delighted of my simple gesture.
I started to take pictures of the game at hand from the sideline, and suddenly one guy asked me, "will you post the pictures and how will they see them?". I replied, "yes, does anyone have an Instagram page?"
His eyes lit up as he said "yes, I have an Instagram". Fair enough. With one touch of the I-Phone screen, I went to the Instagram app, then passed it to him so he could type in his name in return. We'd follow each other; then I would continue passing my I-Phone around to others who were also interested in following me on Instagram.
Without a doubt, on my first visit out of the country, I was able to see similarities of a similar place back where I used to live: Lindbergh Park in Milwaukee, Wisconsin. In the inner city, the local parks can be more than a place of innocence. When we were kids it was the only place we had to our hearts. If someone needed help with a fight, it's where they came for help. If someone was looking for marijuana to smoke, it was sure to be provided there.
In fact, Lindbergh Park is where I had my first try at cannabis at the age of 10 in summer of 2002. Lindbergh Park is located next to Andrew Douglas Middle School in the center of the neighborhood where I grew up. It was a popular location for all sorts of things, including my favorite: basketball.
At the time I hadn't quite earned a name for myself. I was known as "Baby Jerrell". Jerrell is the name of my eldest brother, whom I admired. He was the best I had ever seen play basketball. Just so  calm, cool and collected. He had respect from the guys and especially the girls.
His favorite player to watch on TV professionally was Allen Iverson-A.I. as we called him-who played in the NBA for the Philadelphia 76ers. A special kind of player who modernized the sport. He was fearless and full of hope, and came from where we did, he represented ghettos of the USA.That alone symbolized who we could potentially be.
Although Jerrell never met A.I, it sure seemed that A.I left an everlasting effect on his approach to the game. Whenever my my big brother entered the courts of Lindbergh Park, I just knew that we were in for a surprise. Everyone would gather around the courts staring at every worth watching possession of the ball as if the game was organized, intriguing every part of me.
Without a doubt, at five-foot-six he displayed top-notch point guard tendencies. Ideal at dribbling and unselfish at dishing the ball for an assist, he loved to pass. He was able to box out his opponents while going up for rebounds. And let's not forget his full court sense of intelligence quotient. But what I admired the most is the fire in his heart. His mentality was bigger than anyone I knew his age. I learned by watching him that if I wanted to play basketball at Lindbergh Park, I'd need that same kind of fire in my heart.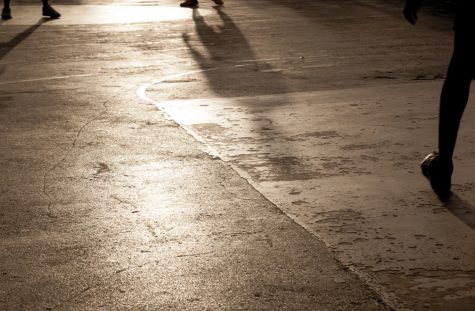 Going to that park specifically was like a religious experience because we had to know who was real and fake. It was easy to spot a fake because you'd see them trying to impress people for all of the wrong reasons.
In fact, on one hot summer day some buddies and I were playing a game of "2 ball", which is similar to a three-pointer contest instead with four players making it a 2-on-2 situation. Suddenly, in the middle of the game these guys started walking and rambling aloud to the park seeking revenge from a recent quarrel that started from friends of my eldest brother.
Sure enough, what stemmed from a simple fist fight ended with a shot from a 22-pistol handgun.
To the defense of his younger brother, the guy behind the trigger was an older brother of Jerrell's friend who had literally driven his silver Chrysler 300 into the park. Entering from the concrete path, onto the short cut grass parking 10 feet away from our current game at hand on the basketball courts, which is also his turf, showing the intruders he'd even kill to protect it.
But the happenings of the park stayed there. It was our secret. Believe it or not, I was a naïve kid. I even went to school that following semester to brag about that event to classmates.
I didn't quite understand lessons being taught from the actions of the older guys at Lindbergh. I looked up to my brother so much that I was even glad to break curfew with him and the neighborhood guys at the park.
On any day, we were like uncaged animals free to say anything even if anyone took offense without a parent guardian in sight. Someone can talk about you to the point of hurting your feelings and the only thing you can try to do is use your words as a defensive mechanism or fight to prove your might. Some friends, huh? When the young ladies walked through the park they were greeted with swarms of cat calls.
Giving orders, one of the guys made it clear this was our domain. Approaching the ladies is something I was shy about because at the park nobody was respectful about it. But on the other hand, I knew that my mother raised me and my siblings a bit different with stronger morals and polite manners.
It was like we all knew each-others social life. We all seemed to build a brotherhood of all for one and one for all, but somewhere along the lines everyone seemed to have lost the dream of being professional basketball players. Some gained responsibilities of being parents as well as being the household providers, including my brother. Others fell to the peer pressures of the street mentality due to the environment in which we were raised. That good old fantasy of getting out of the hood to buy their mothers a big mansion would soon be obsolete.
As for me, I didn't stop dreaming, exploring the fires growing inside of me leaning towards a philosophically-rewarding direction in which I followed. My mission is to make a path for myself. Here I am, at the age of 27, utilizing education to grow and get over my fears of returning to that lifestyle of the park, and most importantly, to travel, seeing how other people live their lives.
Placing my focus back onto the soccer match, I saw bravery in their eyes. I witnessed determination through their on-court arguments as they went against each other. Due to my lack in understanding the language, I couldn't make out to what they were saying, but I'm willing to bet that the arguments were about how physical the defense is and that the official rule has to be implied.
One kid in particular stood out to me. He wore green shorts and a red t-shirt; his hair cut was a hi-top fade, shaved on the sides, and he walked with confidence standing at five-foot-five. He had a bright smile and was soft spoken. I noticed his potential to be a leader as he gravitated towards the ball possessions at every chance he got. His defense was aggressive but fair. Offensively, he was swift and precise in his motions, kicking the ball so hard that the goalie had no idea of his own stance in position.
Watching his confidence soar like an eagle, I noticed a play as he had driven through the lane to score. He shakes the defender left and right to set him up for a higher digit on the mental scoreboard. Then suddenly I learned if I turned my neck for a second, I'll miss the highlight of my life from the sideline. Then boom, this kid kicked the ball so hard it flew over the park's tall steel fence, going over a house into the back yard, leaving it up to one of the guys who stood near me to fetch it.
Being under estimated in size, but ultimately allowing the heart to take over releasing his fire within. For the love of the sport, I can tell this was his kingdom and place of brotherhood by the way he laughed and shared small talk as he interacted with others after the game.
I start to think, who will this kid aspire to be in the future, and will he have courage to make a difference in his own life?