For this student, life-saving goals are not a surprise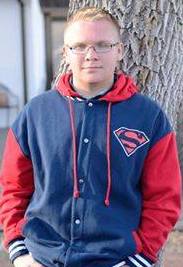 Steven Anderson grew up with a father who worked in a hospital and a fire department. So it's no surprise that this first semester ACC student is studying paramedicine.
"Ever since I was little," Anderson said. "I always admired the sacrifice of doctors and firemen – their sacrifice of time, energy and sometimes their life to keep us safe, help keep us from harm and make us feel better when hurt."
Although he currently is not employed, he's been looking into being an EMT for the fire department or shadowing ER doctors. His dream doesn't stop there.
"After I get my paramedic license, I want to go to medical school and become a doctor," Anderson said.
He chose ACC to start his career path simply because it is relatively close to his small hometown, Kiowa.
When he's not studying paramedicine, he uses his spare time in a few other ways.
"I like to practice my guitar, listen to music and watch movies with the family," Anderson said.
He enjoys listening to Christian contemporary, classic rock and country music. He has several favorite artists, who include Casting Crowns, Skillet, Toby Keith and Journey.
He also enjoys reading the Ranger's Apprentice series by John Flanagan and the Alex Rider series by Anthony Horowitz.
If Anderson were to be the only survivor in a plane crash on an unknown island, he would have a plan.
"I would find water first, then build a shelter," he said.
"Then I would go fishing."