Raising Suicide Awareness on Semicolon Day
Every year on April 16th, mental health advocates, mental health patients and their friends and loved ones across the country take part in Semicolon Day, part of the ongoing Project Semicolon, sharing their experiences of depression and sometimes of past suicidal behavior, remembering fallen friends and sharing suicide prevention resources. Reaching out to those who've struggled with mental health issues and working to erase mental health stigma has become more important than ever with suicide rates rising to near epidemic levels in the United States.
According to the Centers for Disease Control and Prevention (CDC) WISQARS Leading Causes of Death Reports in 2016, suicide claimed the lives of almost 45,000 people in the United States, making it the tenth leading cause of death overall. It was the second leading cause of death for individuals between the ages of 10 and 34 and fourth for those between the ages of 35 and 54. There were over double the amount of suicides as there were homicides. This means the US currently has the 27th highest suicide rate in the world with 15.3 suicides per 100,000 citizens.
While those statistics are shocking, they still don't fully reflect the current suicide crisis. Many suicides are under reported due to police apathy and none of those numbers account for the massive amounts of opiate overdoses that straddle the definition of suicide. This spike of drug and suicide deaths has led to the US experiencing its first life expectancy decline since 1915 through 1918, during World War 1 and a flu pandemic that killed 675,000.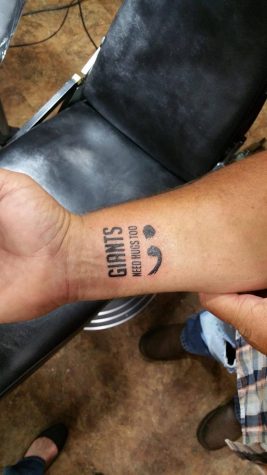 One Project Semicolon participant, Vern Gill, recalled his experience losing a friend to suicide on Facebook; like millions of others worldwide, he's gotten a semicolon inked into his skin to commemorate both the loss and the Project's attempt to help survivors move forward.
Says Vern, "…A semicolon is used when an author could've chosen to end their sentence, but chose not to. The author is you and the sentence is your life. On April 16, 2013, thousands of people joined us to raise public awareness against depression, addiction, self-injury and suicide. Cody immediately came to mind. Cody left us September 2nd, 2012. Yesterday, while looking online, a friend of mine posted their Project Semicolon tattoo, I decided right then it was time. I always told myself that if I'm going to mark my body, it really has to mean something. The semicolon alone would mean a lot but it had to be more… This was my first tattoo and it means everything. Miss you buddy."

If you're worried about yourself or someone else, please reach out to someone to talk to; if you're not sure who, try out these helplines:
Call 1-800-273-8255 (Available phone or online chat 24 hours everyday)
Call 1-844-492-8255
Don't want to talk over the phone or can't connect online? You can text HOME to 741741 from your cellphone.