Combating The Clothing Waste Crisis
A wide array of second-hand clothing and thrifty students filled Arapahoe Community College's second floor student lounge as ACC's Sustainability Club held its Spring Clothing Swap on Wednesday and Thursday March 27-28. "I think the first one was about 2010, we usually do it twice a year, once each semester. Over time its progressively grown," said this year's event coordinator, professor Lori Tigner from the anthropology department.
Every type of clothing imaginable was neatly stacked and hung on the tables and racks strewn throughout the lounge. "I think we benefit a lot of students. We have business clothes for people that need nicer clothes for job interviews. We have a lot of employees that help with donating really nice stuff. We also have some children's clothing and I know a lot of people have children. When you're a student obviously it can be hard to keep clothes on your kids," exclaimed Tigner.
While the event's main purpose is to provide students with access to free quality clothing, it's also meant to combat and draw attention to America's growing clothing waste crisis. On average Americans are throwing away roughly 70 pounds of clothing and shoes each year. We're disposing so much that 5% of landfill space is filled with clothing textiles and up to 95% of those textiles could have been recycled. The Environmental Protection Agency estimates that 15.1 million tons of textile waste was generated in 2013 alone.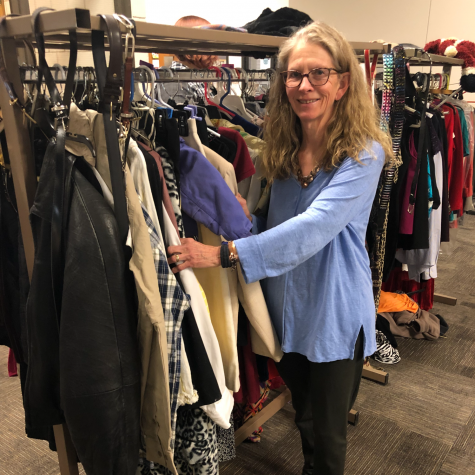 According to Tigner "one of the problems is people buy too many clothes to start with, we wear only 20% of our clothes 80% of the time. So, you've got 80% of your clothes in your closet that you never wear. It's shocking and we need to counteract that. This is a ton of clothes! My point I want to get across to people is that you need to be buying less in the beginning and try to limit that. Our society says you always need to shop but that's really not the best thing for us to be doing."
The clothing and textile industry is the second largest polluter next to oil and one of the top three water wasting industries in China. It can take up to 5000 gallons of water just to manufacture a T-shirt and a pair of jeans. Tigner claims "the problem now is what we call Fast Fashion. Production of clothing in these developing countries has increased tremendously but the quality is so poor that clothes are meant to wear out after wearing it just a few times. So you get a lot of clothes that are horrible quality. Even though you didn't pay much for it, you don't get very much out of it and then it can't even be worn by anyone else later, it just has to be thrown away."
If you'd like to volunteer for next semester's clothing swap, contact Lori Tigner at [email protected].