Faculty Talent on Full Display at ACC Writes
The Writers Studio held its first event of the semester, ACC Writes, at the Arapahoe Community College library last Wednesday, Feb. 27, 2019. The event showcased the incredible writing talents of ACC's faculty and staff, featuring readings from eight  professors.
English department's Professor Erin Campbell kicked off the night with her gripping, #metoo themed piece titled "We're Talking About It Now," from her upcoming book, Curse the Beauty.
Second up was Professor Lori Tigner from the Anthropology department, with two heartwarming readings titled "Kiddy Season on The Farm" and "Taught by Goats." Inspired by Prof. Tigner's years of raising goats, her readings gave insight into the quirky and cute aspects of living with furry, horned companions.
Next was a reading from the head of the Journalism department, Professor Andrea Mason. Professor Mason read her Bust Magazine review of the book White Houses by Amy Bloom, describing the open-secret love affair of Eleanor Roosevelt And Lorena Hickok.
English department Chair Dr. Kathyrn Winograd read a beautifully haunting passage about the passing of her mother from her 2019 Pushcart Prize nominated book Slow Arrow. Sadly, this was Dr. Winograd's last reading here at ACC as she is retiring at the end of this year.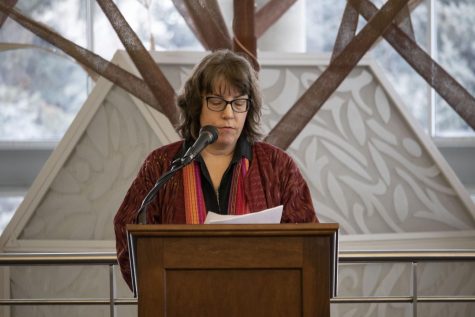 Professor Jane Binns read her two favorite chapters from her critically acclaimed memoir, Broken Whole. The first was a humorous recollection of her relationship with an eccentric man named Ray titled "Pierced." The tone drastically shifted as she read the next chapter, "A Few Words," which was about the last meal she shared with her dying father. Prof. Binns has been an English instructor and E-Learning Coordinator at ACC since 2006, "I'm just grateful for the ACC community and the English faculty who I've known for many years, who didn't stop pestering me about getting this done. The community I had here was extremely important in the formative years of the book," Binns said. Copies of her book, Broken Whole are now available at the ACC library and will be for sale at the ACC bookstore by mid-March.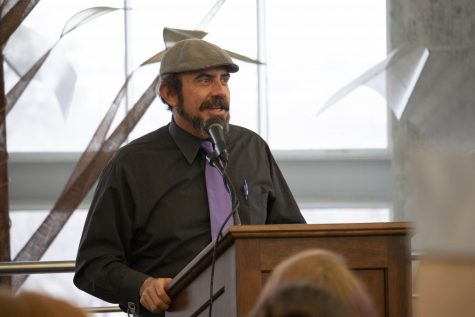 Director of Information Technology Jeff Nesheim shattered the stereotype of an IT guy with his poetry and degree in Master of Fine Arts in Creative Writing & Literature from Bennington College. Nesheim's poems were charming and humorous, ranging in topic from the warm nostalgia of reading liner notes while listening to a record, to the annoyances of home repair and Home Depot. He plans on releasing a book of his poetry this summer.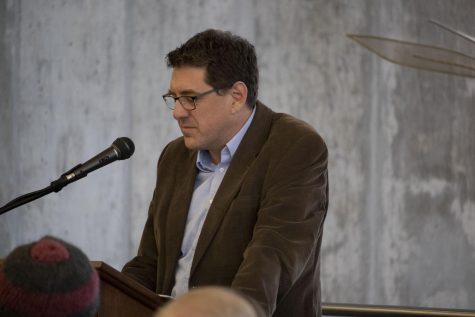 Professor Monica Fuglei from the English department shared a visceral poem about her fathers passing titled "This Time." She also did a reading from the book Silencer by Marcus Wicker in honor of Black History Month.
Last but not least, Professor Mark Kelly from the Astronomy department also gave it a shot and read a chapter of his post-apocalyptic sci-fi novel, Muana Kea Rising. His book tells the story of a families journey across the Pacific ocean after a cataclysmic solar flare destroys the world's power grid.
It's enlightening to be reminded that teachers aren't just teachers but people with talent, passion, wisdom and dreams. ACC Writes offered students a chance to see those talents on full display.
Upcoming Writers Studio events include the Literary Festival on Saturday, April 13, 2019: An all-day writers' workshop where students can choose from a wide array of educational writing experiences, as well as the release party for the Progenitor, ACC's award-winning Art and Literary Journal, on May 7th 3:30 at the Colorado Gallery of the Arts here on campus.