The Once and Future Government Shutdown
What Does It Mean For ACC Students?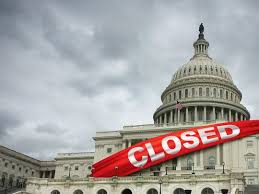 Hang on for a minute...we're trying to find some more stories you might like.
In the shortest and least political terms possible, the shutdown occurred because of an impasse between the Executive branch and the Legislative branch of our federal government.
Approximately 800,000 federal workers and government contractors are back to work after a 35-day shutdown, the longest in U.S. history. However, this may be a short-lived reprieve; the border wall issue that brought about the shutdown is as contentious as ever, and neither the executive nor legislative branches of our government will be changing much until the 2020 election.
While discussions on avoiding another long-haul shutdown are being had, discussions on how to function if and when the next one comes along in February has everyone from Congressmembers to us little people on our toes.
What might this mean for you, a student at Arapahoe Community College?
To set your mind at ease, we'll say first that your federal student loans and Pell grants are safe. Everything that needed to be done to get tuition and fees paid up has already been accomplished.
Less interesting, but vital information: for graduates, student loan providers have not and will not cease seeking payments from you unless you've made arrangements already, and some bad news: if you are seeking a student loan discharge or forgiveness, it can't be done during a shutdown. Plan accordingly.
At the start of the semester, the Vice President of Student Affairs, Dr. Lisa Matye-Edwards sent an email to the student body explaining how the then-ongoing shutdown might be affecting students and what resources are available to them.
From that email:
"If you are a student impacted by the government shutdown, ACC has resources that may be able to assist:
ACC Food Pantry – Student Engagement Center/Dean of Students Office, M2720 on the Littleton Campus, 2nd floor or email [email protected] if at Parker or Littleton and we will connect you with resources.
Student Emergency Fund – email [email protected] to talk to someone about our emergency funds for students.
Free Mental Health Counseling – Call 303.797.5730 to make an appointment.
Free Fitness Center access – Littleton Campus."
If you are still recovering from the recent shutdown or are concerned about the impact of another, know that these resources are available at Arapahoe Community College.
If you're in less tenuous circumstances and have the ability to offer assistance to your fellow students, please make note of the ACC Food Pantry especially. They are ready for your donations to line the shelves and are looking for a wide variety of nonperishable food items.
"We are always taking donations, bring them by the office!" says Victoria Axelson, an office assistant in the Student Engagement Center. "Most often people use cans of chicken and tuna… we have tons of corn and green beans so we're looking for stuff more outside of the box. Things that can help create meals. Spaghetti and other pasta meals are always welcome."
Additionally, students who need a little more help can ask for it at the Food Pantry. "When you sign in with your S number, you'll be asked if you need additional resources—and we can start the process right there," explains Axelson.
None of us knows exactly what's coming next, so let's try to get by with a little help from our friends… and staff, faculty, administration and our fellow students.