While You Were Sleeping
Most students have been looking forward to Oct. 9th as a day to sleep in, get some work done and maybe even lounge around. That's because students had that day off while the staff, adjuncts and professors had to come in bright and early. Among the many events on Tuesday, Arapahoe Community College housed a Health Fair for staff to get better acquainted with the resources that they have and to plan for healthier futures.
Some of these resources aren't just valuable to teachers, but students as well. That's why the Arapahoe Pinnacle took a tour of the fair to see how they can help students as well as the faculty.
Booths and tables consisted of many health and wellness companies and corporations, such as College Invest. They help manage Colorado's 529 college savings plans as well as educating people on how to save for college, not just for themselves but for their children and grandchildren. "Benefits of the 529 plans are that residents of Colorado get a dollar-for-dollar deduction off their state income," says Julie Farquhar, a repressive of College Invest. "Contributions are tax-free when used as a qualified withdrawal for post-secondary college education or vocational school expenses. Those withdrawals from 529 are all tax-free. They grow tax-free and can continue to be used tax-free."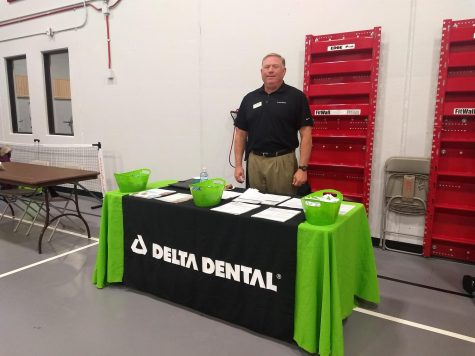 Delta Dental's Cris Wagner spreads the message of the 2-2-2 program. "Brush your teeth for two minutes twice a day. Visit your dentist twice a year, floss regularly, and change your toothbrush every three months. Good oral health is a big part of overall health."
VSP (Vision Insurance Plan) is insurance for coverage of eye exams, frames, lenses and other vision goods and services. This membership doesn't have a card, so you'd have to enroll online. Once you do, VSP will search for one of their doctors in your area. "This insurance is very economical for all vision problems, including Lasik," states Lyn Holloway.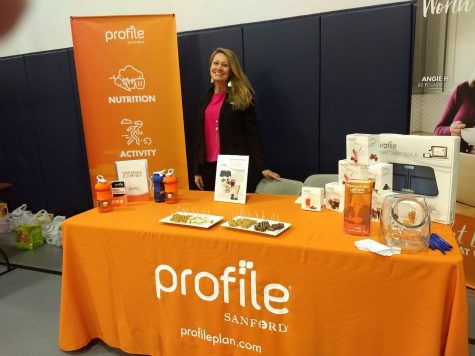 Profile by Sanford is "a weight management solution backed by the physicians and researchers at the Sanford healthcare system," says Jona Knoble.
They offer their members coaching on improving your nutrition and activity lifestyle. They also help them lose weight and keep it off through food product plans and genetic testing.
"We are a growing organization that's sweeping the nation; soon to be a household name that you previously didn't know about,"remarks Knoble.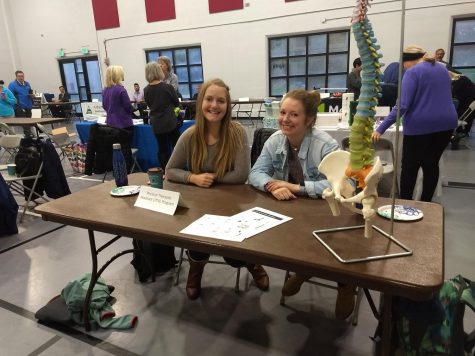 Brooke Kummerfeld and Sophie Bloomquist, who are both with the ACC Physical Therapy Assistant program, set up a table at the fair to spread awareness about posture. Being a part of the PTA program, they were emphasizing the importance of having a good neutral spine and offering pamphlets on how to maintain good posture while sitting at work or in class.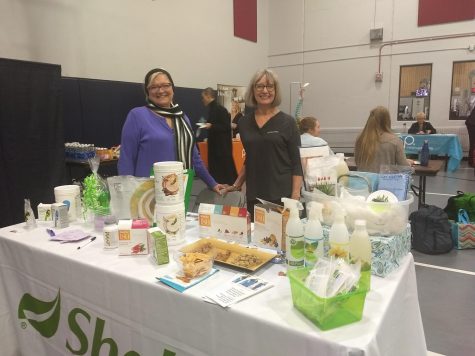 Debbi Sylvester and Colleen Morris are independent distributors for Shaklee Corporation.  Shaklee has been around for 60 years and specialize in health and wellness. They sell a variety of non-toxic non-chemical products such as sports and fitness nutrition, general nutrition and targeted solutions. These are products to help with things like high blood pressure and diabetes.
"We don't pretend to cure anything, it's all preventive types of programs," says Sylvester.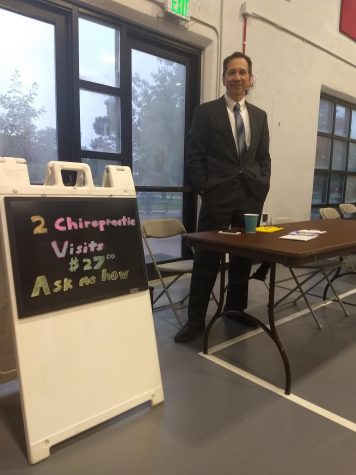 Adjustable Chiropractic's Dr. Ebeling came to the ACC health fair to promote a "new member special." After over 20 years in Denver, Adjustable Chiropractic moved to Englewood in May. The special consists of an evaluation/consultation and your first adjustment for $27. For more information, call (303)-377-1755.
Discover Health and Wellness specialize in spinal health, through correcting any misalignment throughout the nervous system that runs along the spinal cord. They do all of this without the use of surgery or medications. They also came to promote a walk-in special and to advertise their free chair massages. "We'll even come to your work and give you a free chair massage," explains Becky Mustacchio. For more information, visit freechairmassage.com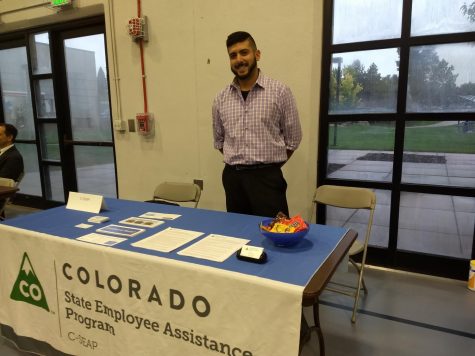 The states EAP program, or, C-SEAP came to the health fair to inform state employees of the benefits they are eligible for.
"We offer all kinds of different services, but our main service is a confidential counseling program," says Joey Gomez. "State employees can receive up to six free counseling sessions a year. It can be for a single person, couples, families…" They also offer training and coaching for financial assistant programs.
"We're the Swiss Army knife of services," jokes Gomez.
At this point, one thought must come to mind. "If all of these resources are so great, then why weren't the students invited? If everyone could take part in this, why not have this fair on a class day?"
That's a valid concern. There is nothing stopping students from taking advantage of these opportunities. But the fact is that it's the teachers and faculty members who put in just as much work, if not more within the walls of our college. They are the ones teaching the students and if they're not healthy and prepared, then neither are the students.
That is why students were told to sleep in while everyone else explored the health options that were put in front of them. For more information, feel free to click on the links and explore what could best benefit your health in the future.