ACC has safety rules, and it encourages all to be familiar with them
The vast majority of college campuses are safe – but armed gunmen at a very few can prompt concern elsewhere – and a need to know how to react.
The ACC Campus Police home page carries a link to a video containing advice for emergency situations. The video, provided by the Colorado Community College System, is at:
• In case of emergency or incident, call Campus Police at 303-797-5800.
• If no answer, call 9-1-1. Answer all questions you are asked, and follow all instructions.
ACC campus police have had emergency response plans in place on the Campus Police public website for evacuation procedure and shelter-in-place procedure. However, the department pulled those procedures off the Campus Police public website Oct. 14.
The Campus Police Department is in the process of replacing those outdated procedures with new procedures, Chief Joseph Morris said Oct. 14.
"We were in the process of making changes to the protocols, but I have to send website changes to the Marketing Department and the website changes were not yet in place," Morris said. He did not give an estimate about when the changes would be posted to the department's public website.
The Campus Police website changes will reflect new procedures, which also are outlined in new booklets to be placed in classrooms and to be made available to anyone who wants them, he said.
Those procedures are, in part:
Evacuation Procedure
If ordered to evacuate the building:
• Evacuate to the announced location.
• Bring your phone.
• Leave your other stuff behind.
• Follow instructions.
More guidelines are on a poster, which appears elsewhere with this story.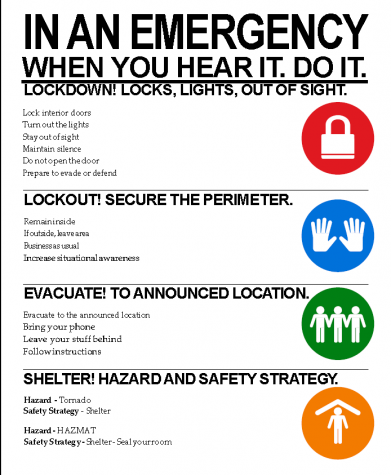 Meanwhile, certain other common sense procedures could come into play in a last resort scenario. If an armed intruder forces his way into your classroom, threatening to shoot students one by one in an order known only to him, people usually are immobilized by fear and uncertainty.
The first inclination may be to appear as inconspicuous as possible, and deflect attention from yourself by remaining still and obeying every command.
As elementary as those tactics seem, it is not the approach that Sgt. Keith Moreland of the ACC Campus Police advises in some last-resort cases.
"It is to be understood that fighting back aggressively is the last resort when you are confronted by an intruder in the classroom itself," he said. "If there is nowhere to hide or run…" you have little choice about what to do next.
In such a last-resort scenario, there could be little choice, he said.
"At that point the situation is deadly, and if you want to get out alive you need to fight for your life," he said. "Fight and run. If the gunman is shooting, it is your job is to try to be last."
In this last-resort scenario fighting for your life means using any means available to immobilize the gunman.
Moreland says one main goal is to gain control of the arms and legs of a gunman, and he is a big proponent of tackling.
He also suggests knowing the objects in your classroom that can be used for defense, such as pens, book bags, the IV stands in health classes and even a cord from computers, which can be used as a whip. Discharge of the fire extinguisher can blind the gunman or at least cause enough confusion to allow some to escape.
"You have got to get desperate and use anything available," Moreland said. "If he doesn't have a good grip on his weapon, it can recoil and affect his aim. Do anything to put him off balance."
That last-resort scenario is exactly what Christopher Mintz did when he charged the gunman at Umpqua Community College – he fought for his life and won. He did not wait for the assailant to shoot him, but took control of his survival and the survival of others. Though he was badly injured, he is still alive – and so are others.
CNN reported that 74 school shootings had occurred in the last 18 months. This statistic makes it very clear: It can happen anywhere, though the odds are long against it happening in any specific place.
Persons with disabilities should make arrangements in advanced for help from volunteers in their classes or office for assistance. Persons with disabilities may contact the Office of Disability Services (Room M2710, phone 303-797-5937) to review emergency evacuation procedures.
Leave a Comment