Being Heard: A Walkout at ThunderRidge High School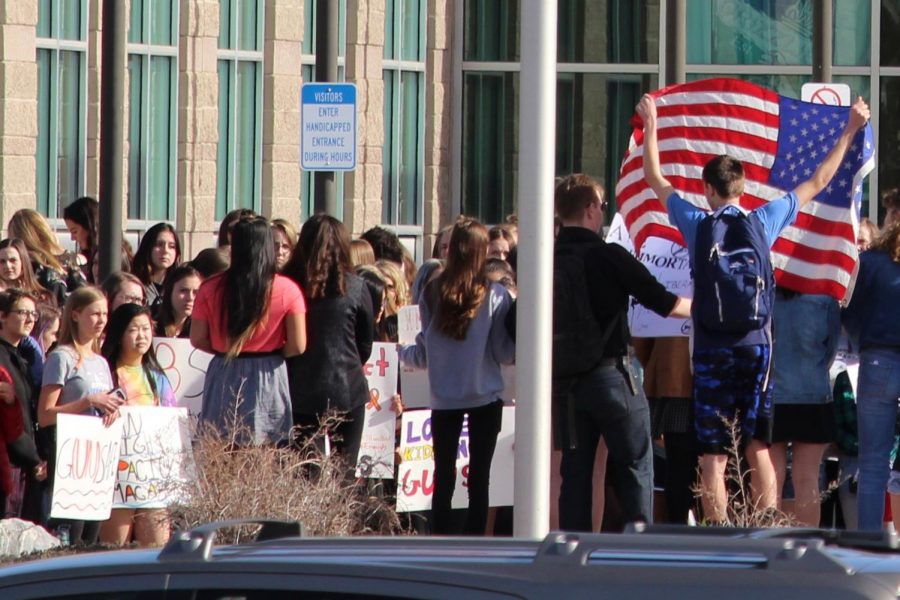 Each shouted at the other: a ThunderRidge student in a truck and a Highlands Ranch resident on a sidewalk near the edge of school property. Was it anger or just an effort to be heard over the distance between them? Both Joe Radochonski and Molly Gustafson were expressing opinions after the #ENOUGH National Student Walkout at ThunderRidge High School in Douglas County on Wednesday, March 14.
At 10:00 a.m., students across the nation left their classrooms in an attempt to draw attention to their concerns surrounding school safety and the right to bear arms. At ThunderRidge, a portion of the student body gathered in the sunshine at the flagpole in front of the school building. A few students wore orange, the color of the gun violence awareness movement. Several held posters. One unfurled a flag.
Over 3,000 #ENOUGH National Student Walkouts were registered on the Women's March Youth website. These walkout events were organized to protest gun violence in the wake of Parkland, Florida's school shooting just one month ago. According to the website, students, teachers, administrators and parents were welcome at the ThunderRidge event.
The Douglas County School District, however, had other ideas. Parents, community members and the media were not allowed on school property during the walkouts for the safety of students.
Gustafson, a Highlands Ranch resident, and her two young daughters were asked to leave the campus before the walkout began on Wednesday. "We're here to show support for the student walkout," Gustafson said, holding a hand-lettered sign and tiny American flag on the public sidewalk near ThunderRidge.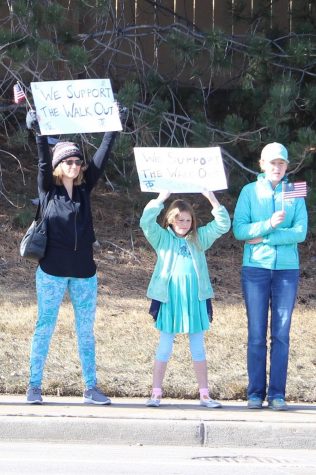 The Gustafsons held their posters as they stood along Wildcat Reserve Parkway. Passing cars responded with honks.
Nearly twenty people congregated near the edge of the school's property. Some faced the street and held signs like the Gustafsons, and others faced the school to better observe the walkout. Several people were concerned that the safety restrictions stifled the students' voices.
Back at the flagpole, ThunderRidge students Iley Cao, 17, and Salila Aryal read the names of the people killed during the shooting at Marjory Stoneman Douglas High School. Later, ThunderRidge students would honor those victims with a moment of silence.
But first, student Alex Nelson, 17, in an orange T-shirt and black stocking cap, gave statistics about gun violence and encouraged others to contact Congress. Although they were too far away to hear it, Nelson thanked the parents and community members for their support. However, from the signs held aloft at the gathering, it was clear that while some students supported gun control, others did not.
When the 17 minutes had passed, one minute for each Parkland shooting victim, some students went back inside. Some lingered at the flagpole. Some walked to their cars, presumably heading off-campus for an early lunch. A few crossed the school parking lot and grassy embankment to speak with parents, residents and the media on the sidewalk in front of the school.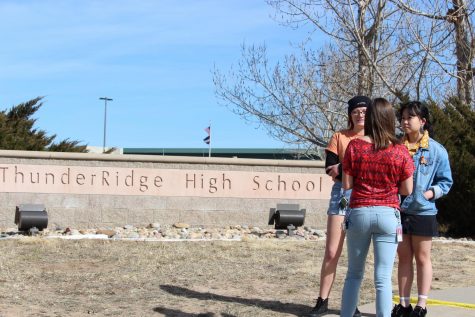 Madeleine Cassic, 17, Elizabeth Levi, 16, and Sarah Stretz, 16, who all support gun control, joined the community members at the edge of school property for a few minutes. "I walked out today because I've had my opinions for a long time, but I wanted to be able to voice them and try to help make change," Levi said.
She wasn't the only one who wanted to be heard. As students left campus and passed community members supporting the walkout, shouts and jeers could be heard from some vehicles.
One of those shouts came from Radochonski, a 17-year-old student at ThunderRidge.
While idling in his truck at a stoplight, Radochonski and Gustafson began exchanging words. Loudly. He was promoting the second amendment and she, poster in hand, suggested the need for conversation.
Much to her surprise, Radochonski took Gustafson up on her suggestion. He turned a corner, maneuvered his truck to the edge of the road and waved her over. Gustafson, lowering her sign, walked toward his open passenger window. A minute later, Caleb Garcia, 17, a friend of Radochonski, parked his car and joined them.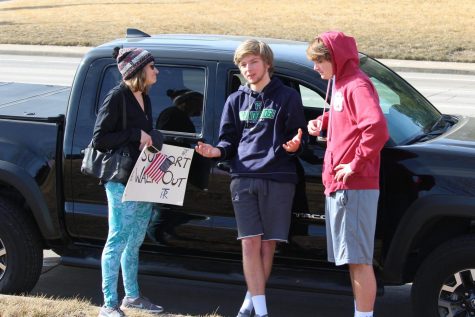 An exchange that had all the makings of a heated debate quickly turned into something else. For the next twelve minutes, Radochonski, Garcia and Gustafson talked while cars whizzed by.
Radochonski expressed concern that "people that are right-leaning aren't allowed to share their opinions." Garcia expressed frustration that some students didn't have facts to back up their position. With Gustafson, they talked about the divide between liberals and conservatives, about bump stocks, about abortion and, just before parting, about finding common ground.
Although they had differences of opinion, Gustafson remarked that those opinions were expressed respectfully. "They seemed like very intelligent, respectful, well-educated kids," she concluded.
In spite of their separation from the media and community, ThunderRidge students found ways to make themselves heard. Whether for or against gun control, the walkout gave passionate Highlands Ranch teens a chance to express themselves — both on and off school property.