Uncover the Cosmos at ACC's Astronomy Party
Hang on for a minute...we're trying to find some more stories you might like.
Who wants to discover Orion together? I recently attended an event on Friday 10. November, put together by the Astronomy class. They hold an event four times each semester, called 'Astronomy Star Parties.' The events are open to all student.
That night was extremely cold and the event had to be cut short unfortunately due to clouds covering a lot of the sky. Damon Olsen, of the Astronomy Department at ACC, conducted the Astronomy Star Party and what I witnessed was simply spectacular.
A group of about 15 students gathered around a giant telescope when I joined the party. Olsen began by describing to the crowd the first planet we were about to see, Saturn. The group gathered and formed a line to catch a glimpse through the lens. Once it was my turn, I saw a small blurred yellow-orange ball in the distant sky. The telescope used was an 11 inch Schmidt-Cassegrain Reflector, about 3-4 years old.
During the fascinating evening, I saw many incredible celestial bodies including Saturn, Uranus, and Albireo–a binary star system. I also got to see the Ring Nebula, the Wild Duck Cluster, which is a group of 1000 young compacted stars, and a globular cluster.
I didn't know much about astronomy before coming to the event, which made witnessing these objects in the sky an exciting and interesting learning experience for me. I thought it was fascinating learning about the globular cluster, a large group of compacted stars which are about 10 billion years old, while the Wild Duck Cluster is considered "young" at only a "few million years," according to Damon Olsen. I also thought it was intriguing to see Albireo since it is a binary star system that are two stars that are extremely close together. The binary system I saw included one blue star next to a white star.  It looked something like this: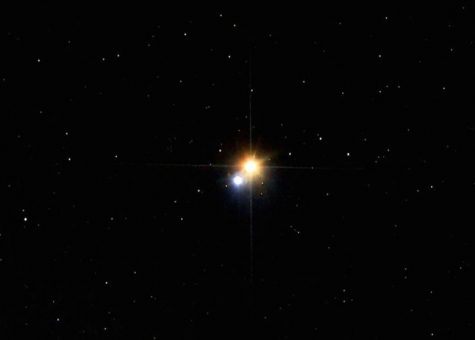 Up and coming for the Astronomy Star Party is a year-long project in the works, as stated by Jennifer Jones, Head of the Astronomy Department. Efforts are being made to implement braille and tactile disks, which will allow those who have vision restraints to view the constellations. They will have the constellations and labels on the front in braille with a written label on the back for those who cannot read braille. The Astronomy department has been building the disks in cooperation with the library and student access services. According to Jones, they are hoping for the disks to be ready for next semester.
The above image is a braille and tactile disk prototype, Jones showed me. It was taken at one of the Astronomy Star Parties with the school telescope, Cassegrain.
I highly encourage visiting at least one Astronomy Stay Party. There are many great things out there in our galaxies like the Milky Way and other heavenly bodies just waiting for you to discover them.
You can also visit the ACC website and put 'astronomy star party' in the search box to see what the Astronomy department have accomplished in the past.
They also maintains a Pinterest board that showcases more their discoveries.
For more information about the Astronomy program, contact Jennifer Jones at [email protected]