Denver's Handmaid Resistance to Pence
October 27, 2017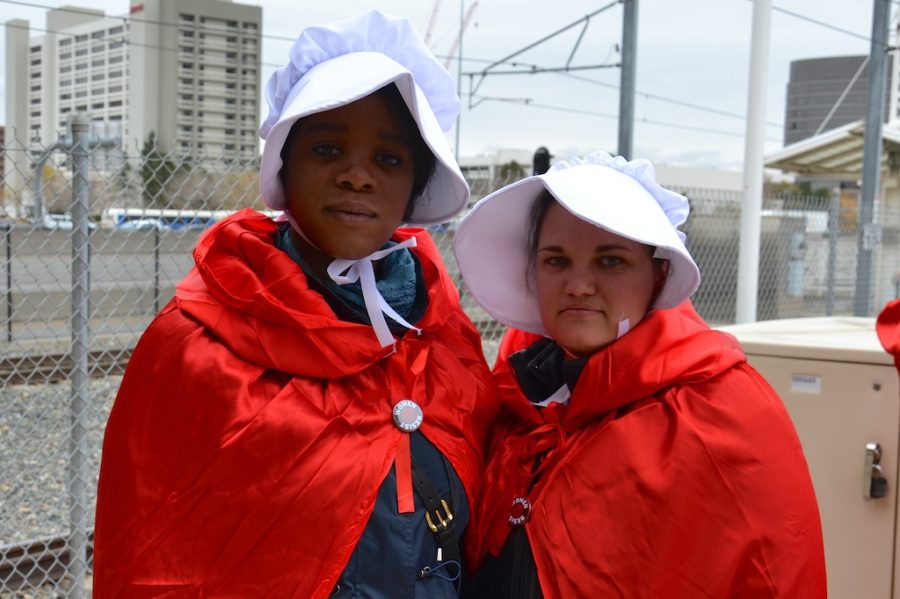 Image via Nico Danks
Vice President Mike Pence was greeted by over 100 handmaid demonstrators (in reference to "The Handmaid's Tale") and additional protesters on his way to the Denver Marriott Tech Center for a Colorado Republican fundraiser on October 26th.
According to Joe St. George of Fox Denver "All of this happening in front of people who pay a lot of money to attend this very important GOP dinner."
Katie Farnan, one of the primary organizers of the Colorado to Pence protest, explained how she and the Denver Police worked hard on "over-planning everything." Aside from collaborating with speakers from NARAL, ACLU, and Planned Parenthood, Farnan made sure that the demonstration went in accordance with city ordinances, and that Indivisible participants (the collective opposed to the agenda of the Trump administration) stayed out of traffic's way.
At the fundraiser, Pence promised to bring forth the "largest tax cut in American history," but an analysis by the nonpartisan Tax Policy Center found this to only benefit the wealthiest Americans, likely increasing taxes for middle-class households.
Despite shivering in the snowy weather, handmaid demonstrators non-violently protested against Pence's policies regarding human rights. Limiting abortion and birth control, defunding Planned Parenthood and safe sex education, and legalizing discrimination against the LGBTQ community are just a few of Pence's stances that the protestors had issues with.
Christine Jensen, a retiree and handmaid demonstrator, mentioned her distaste in having to fight the same issues all over again since her early Vietnam anti-war protesting days. "Our democracy is more fragile than we realize," she stated, "And there are bigger issues at hand," referring to the government's continual ignoring of environmental health problems.
With bowed heads and clasped hands, the handmaids made a visually striking message that has been passed around in a fair amount of local news and social media. Below are some photos of the demonstration.