Vehicles and Veterans at The Platte's 11th Annual Car Show
Classic car enthusiasts, curious restaurant goers, and supporters of military veterans mingled among the bright colors and polished chrome in the parking lot of The Platte River Bar & Grill. The restaurant's 11th Annual Car Show took place on Saturday, Sept. 30, 2017.
Every year, funds raised at the show go to worthy organizations associated with the armed services. The Platte believes those willing to answer the call to serve their country deserve to be honored by those who reap the reward of their service and sacrifice.
This year, over $2500 was raised for the Rocky Mountain Navy Seal Association and Trident True, says Frankie DeGal, manager of The Platte.
Trident True is an organization dedicated to giving Colorado veterans tools and resources for adjusting to civilian life. Jesse Clay, Trident True's, founder and president, is very hands-on and creates personal connections with veterans, says Shannon Calhoun. Calhoun is a volunteer and grant writer for the organization.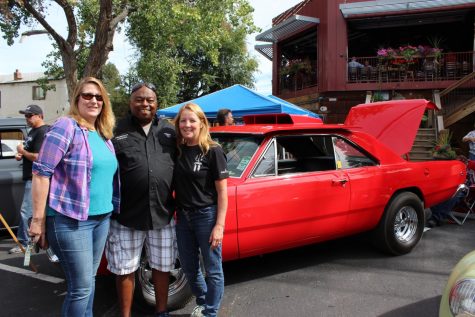 Calhoun and other Trident True volunteers sold T-shirts and raised awareness about their group as Jammin' DJs cranked classic rock, and nature provided the venue with golden sunshine. Volunteers from the military support section of Cherry Hills Community Church, armed with brochures and orange buckets, solicited donations for Trident True as they walked among the pristine cars.
Trident True's next fundraising event is a Chili Cook-Off competition at The Platte on Veterans Day, Saturday, Nov. 11, from 10 a.m. to 3 p.m.