Good sport Hickenlooper spoofs self, as do others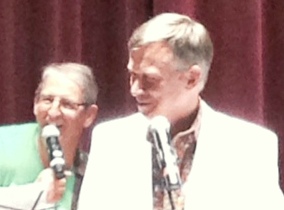 Hang on for a minute...we're trying to find some more stories you might like.
In this political silly season, plenty of voters are making fun of politicians.
But to see and hear politicians – headlined by Colorado Gov. John Hickenlooper — making fun of themselves is different enough to be most welcome.
And so it was last Friday night at the Denver Press Club's annual Gridiron show, a presentation that made it clear why the participating politicians usually confine their theatrics to the statehouse, the Colorado Legislature or City Hall – and not to an actual stage.
In a nutshell, they can't sing or dance very well – and this is a big part of the charm of this respite from politicians who try to be serious. Chief among these is Hickenlooper, who is known in press and media circles to be a very good sport, regardless of one's politics. He is nothing, if not resilient. He was educated as a petroleum geologist, laid off in an oil bust, then founded and operated a brew pub. Then he was elected mayor of Denver, then governor of Colorado.
Hickenlooper and his group (the Hick-Tones) proved to be Exhibit A of the talent with a rendition of Sweet Second Term. Singing more or less to the tune of Neil Diamond's Sweet Caroline, the governor made reference to a pre-politics occupation: He owned and operated the Wynkoop, a Denver brew pub.
Sweet Second Term by Gov. John Hickenlooper and his Hick-Tones:
It all began back at my little brew pub
Playin' pool and slingin' beer
Entrepreneur, mayor and then the gov'na
I can't sing, but I'm still here
Hands, shakin' hands, creating jobs for you and me
Sweet state of mine [bom, bom, bom]
Colorado, you're so good to me
Broncos front line [bom, bom, bom]
Just ain't workin' like it should
But now we're …
We're No. 1, makin' all the Top 10 lists
Economy boomin' left and right
But we're not done, fiscal thicket's a-loomin'
[pause]
Weed, taxing weed, IUDs and schools we need,
Sweet state of mine [bom, bom, bom],
Colorado, you're so good
We're the state of Kind [bom, bom, bom]
As in kindness, not green bud….

We're No. 1, rank on all Top 10 lists….
Sweet Colorado,
Colorado, you're so good, so good, so good.
Sweet state of mine, Colorado, you're so good….
Patty Burnett
At the conclusion, Hickenlooper and the Hick-Tones received enthusiastic applause.
The governor wasn't the only office-holder to perform. Others included:
• A quartet from the Colorado Legislature sang The Leader of the (Super) PAC, a knock-off of the old hit The Leader of the Pack. They were Reps. Lois Court (an adjunct instructor at Red Rocks Community College), Joann Ginal, Steve Lebsock, Beth McCann, Su Ryden and Jonathan Singer. All are Democrats.
• A trio from the non-partisan Denver City Council performed Let's Work Together: Kevin Flynn, Robin Kniech and Mary Beth Susman. Kniech's aide, William Thomas Fenton, joined them.
Then there were a few songs about politicians:
• Donald Trump was the inspiration for "It's All About Me," sung by Edie Sonn, VP-Communications and Public Affairs for Pinnacol Assurance.
• Chris Christie was the subject of Bridge Heading to New Jersey (to the tune of the Simon and Garfunkel hit Bridge Over Troubled Waters), sung by Ruth Darling-Goldberg, a licensed professional counselor and part of a folk music duo called Vintage Spare Parts.
• The EPA was the target in Got a Yellow River from the EPA (to the tune of Tie a Yellow Ribbon 'Round an Old Oak Tree). It was sung by Phil James, a Denver attorney, and the cast
The show also included the tried-and-true themes of mountain traffic (Damned on I-70), the RTD (Train to Plane) and more.
The Denver Gridiron is modeled loosely after the annual skewering of the nation's leaders by the National Press Club in Washington, D.C. The Denver event, staged in the University of Denver's Reiman Theater on Oct. 2, was begun about 40 years ago. The Denver Press Club, which dates to 1867, is the nation's oldest press club.