Puerto Rico Sends S.O.S. to Its Own Federal Government
Hurricane Irma caused major power outages to 70% of the island of Puerto Rico three weeks ago.  Many were still in the dark, trying to survive without electricity when hurricane Maria arrived historically and devastated beautiful Puerto Rico to bits.
Puerto Rico is a U.S. territory, the largest territory of the United States, and is home to 3.5 million US citizens.
Puerto Rico became part of the United States in 1898. The island was acquired from Spain after the Spanish-American War. Puerto Rico became a territory in 1917, which is when Puerto Ricans' gained full citizenship in the United States.
Since it is not a state however, Puerto Rico has no senators or voting members in congress, just a representative who can attend, and presumably speak to the issues that face Puerto Rico.
Their congressional representative has no voting rights. This means the territory of Puerto Rico has no elected senators or representatives to help see to the needs of Puerto Ricans.
The Caribbean island does have control over their local government, since 1952, when a constitution was ratified with amendments by Congress. On July 25, 1952, the constitution was in effect, solidifying Puerto Rico's right to form their own state-like government.
As U.S. News reports, Puerto Rico tried to achieve the status of statehood in 2009, and again in 2012 when a healthy majority of residents supported the referendum. President Obama supported and was "firmly committed" to help Puerto Rico become the 51st state.
Summarily, republicans fought against the effort. They had majority control in the House of Representatives at the time. The referendum was defeated.
Today, the U.S. territory of Puerto Rico is sending the federal government an S.O.S. (save our souls) message.
All power, and ultimately water, is down. The Governor, Ricardo Rosselló, said it would take months to repair. All critical infrastructure has collapsed. The New York Times quoted officials who cited initial estimates of "80 percent of the transmission and distribution infrastructure."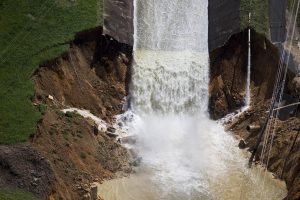 On top of existing recovery and relief efforts, on September 22, CNN Reported on an emergency announcement from the National Weather Service:
"All people living near the Guajataca River in northwest Puerto Rico should evacuate immediately because of an imminent dam break, #RioGuajataca,
There are approximately 70,000 people living in that area.

The warning was extended into Monday Sept. 25, for the people living near the Guajataca Dam.  The Dam blocks water from a 2-square mile lake. It was built in 1927, and it was last inspected in October 2013, per Reuters.
The fatalities from the storm stand at more than 10 people. Maria was recorded the strongest storm to hit that area since 1928. Puerto Rico's agricultural industry will be an expensive recovery effort, as 80 percent of the island's crops—bananas, plantain, and coffee equaling approximately $780 million-dollars is lost.
The Atlantic reports that a minimal amount of cellphone towers are working, ports are damaged, as are roads and airports. People are trying to leave, but without electricity, the airport systems are not working well and it is causing extreme delays and further backlog.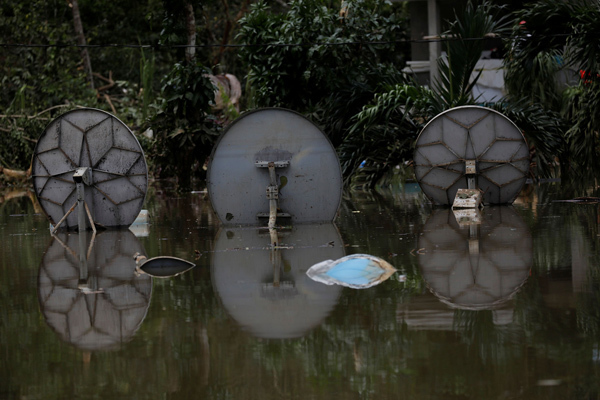 Hospitals are desperate to keep generators running to keep people alive. After a week, only 11 hospitals were operational. With travel hindered, getting people to the hospitals added another level of cries for help. With a limited number of cell phone towers, not all cries are being answered yet.
Governor Rosselló asked for additional government relief/aid to stave off a humanitarian crisis, and the crumbling dam, with possibility of flash flooding still high, remains a high risk for collapse. "We need to prevent a humanitarian crisis occurring in America," Rosselló said to CNN.
Compared to other disasters of this size in the United States, many believe this disaster is not getting the attention it deserves from the government. The Washington Post reports on the scant coverage and discussions about the issue.
NPR News notes the various difficulties people face after such extensive damage—the roadblocks and red-tape involved in trying to get generators, food, water, structures and wastewater treatment capabilities—everything.
The road to recovery will be difficult for all the people in Puerto Rico. They must each rebuild their lives and livelihoods from scratch. There are ways average citizens can help Puerto Rico residents.
We can volunteer to work or donate money to a reputable relief organization or cause. One such helpful organization is the Hispanic Federation and the American Red Cross.
MSNBC's Rachel Maddow reported on Sept. 26, that although it will take many days to get there, the military ship known as the USNS Comfort is on its way to Puerto Rico. The USNS Comfort reportedly has 1,000 hospital beds, equipment and relief supplies.  Reports are that it will take about a week before the relief ship arrives in Puerto Rico.
The USS Kearsarge Amphibious Ready Group has been helping in the area, as well as in the U.S. territory of the Virgin Islands, all three, which have suffered "mind-boggling" hurricane damage.
Federal Emergency Management Agency FEMA, obviously, is knee high in the efforts to help. According to CNN FEMA priorities are clearing debris from critical transportation routes and repairing utilities.
Relief workers and government officials are being tested beyond the brink too. They all need our unified and giving nature as America to take over in high gear and help.
As Puerto Rico begins the pain-staking efforts of rebuilding its infrastructure, allowing people to regain their livelihoods, its communities will still face additional obstacles, simply due to the fact that the island is only a US territory, and not a US state.
Keep an eye out and an ear open for public discussions on how we treat citizens who live in territories versus how we treat citizens who live in states, particularly in the event of a natural disaster and subsequent relief efforts.
Leave a Comment