Recap: 2017 69th Emmys
The 69th Emmys was a night of many eventful moments. History was made and Trump was mocked.
The host Stephen Colbert performed an opening song and dance number dedicated to President Trump, dancing alongside the likes of Anthony Anderson, Allison Janney, Julia Louis-Dreyfus, etc.
"The world may be the worst we've ever seen," Mr. Colbert sang. "But it's never been better on your TV screen!"
Although nearly the entire show was fused with political commentary, Colbert taunted Trump because he's a former TV star who's still resentful that he never won an Emmy himself, rather than for his leadership as president.
"If he had won an Emmy, I bet he wouldn't have run for president, " Mr. Colbert said.
Later, Sean Spicer, the former Trump-Administration White House press secretary, made an appearance. Poking fun at a serious statement he made earlier this year, Spicer announced, "This will be the largest audience to witness an Emmys, period."
Melissa McCarthy, who performed parodies of Mr. Spicer on Saturday Night Live (SNL), was in the audience looking a little embarrassed. She won an Emmy for outstanding guest actress in a comedy series for her portrayal.
Alongside McCarthy, eight others from SNL left with Emmys. Alec Baldwin didn't walk away empty-handed either. He won an Emmy for best supporting actor in a comedy series for his portrayal of Trump. He made sure to give him a shoutout, saying, "I suppose I should say at long last, Mr. President here is your Emmy."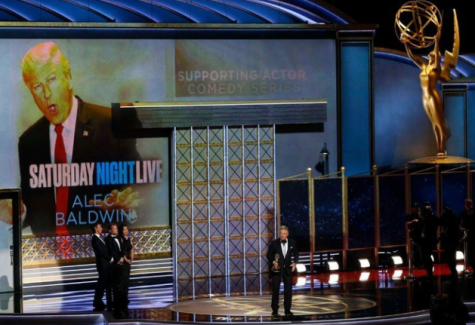 The night was also full of important firsts in the black community. Donald Glover is the first African-American to win in the best comedy series director category for "Atlanta." He also had words for Trump, thanking him for "making black people number one on the most oppressed list."
Lena Waithe is the first African-American woman to win in the best comedy series writer category. She discussed her winning episode, which was "about what it means to be queer, what it means to be a woman, and what it means to be a person of color."
Other important wins went to Big Little Lies and The Handmaid's Tale. Big Little Lies is a new HBO mini-series that won five Emmys this year. It's about the lives of three mothers who live in a town where a murder unravels, starring Reese Witherspoon, Nicole Kidman, and Shailene Woodley.
The Handmaid's Tale is the new Hulu series set in a dystopian future where women like June Osborne (Elizabeth Moss) are forced to live as concubines under a fundamentalist theocratic dictatorship. The show won an impressive eight Emmys.
Always full of glam, political references, and winners, The Emmys have now been around for almost seventy years. It's a night of getting together and celebrating entertainment, and celebrities will continue to voice their opinions, even if it means bashing political figures.