Reach Out and Touch
Denver, Sept. 19 – Jordan Cooper sat slumped on the cold tiled floor, surrounded by meager earthly possessions, and two devoted yet weary dogs. She smiled candidly – albeit faintly dashed – at the people who stopped to greet her.
One of the thousands of people experiencing homelessness in the city of Denver, Cooper arrived early Tuesday morning at the Denver Convention Center, where the 16th Project Homeless Connect event attracted an unprecedented number of guests and volunteers.
Co-sponsored by the city of Denver and Mile-High United Way, the one-day-event rendered a broad range of vital services to needy individuals for whom access to these resources is typically hard to come by.
Up to a hundred community organizations and local businesses set up shop in the spacious exhibition hall that morning, offering free medical exams, employment advice, and even trendy haircuts.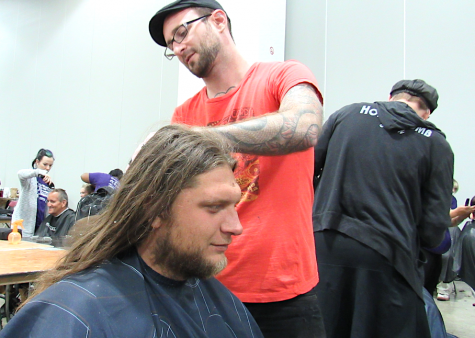 Every guest was paired with a volunteer in an effort to close the social distance between people with housing and those that are not housed in the community.
"I hope to get a lot from here today, especially mental help," said Cooper, who is 23.
Cooper left her Arkansas home in October of last year, to get away from an abusive ex-partner after a serious case of domestic violence became the breaking point.
Her arrival in Denver signaled a new beginning. With the support of friends and community organizations, Jordan gradually gathered herself, glad to leave her troubled past behind. However, the news that she had been four and half months pregnant, only to lose the child, spiraled the young woman back into a deep depression.
"I met a great group of people that [sic] became my family. I started staying out on the street, instead of the shelters, to avoid getting any diseases or sickness[es]."
Project Homelessness Connect has long been stewarded by Denver's Road Home, the city's lead agency on homelessness strategy. Replicated in over 200 cities nationwide with astounding success, the federal government's Interagency Council on Homelessness has declared PHC a national best practice model.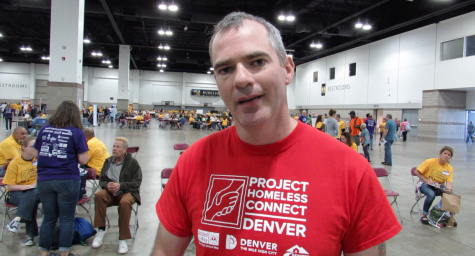 Chris Conner, the event organizer, was only recently appointed by Mayor Michael B. Hancock as interim Director to lead homeless shelter and services coordination.
He estimates that in the past eleven years, the rate of increase of homelessness has been proportionate to the rate of population increase in the Mile-High City.
"Denver is growing and the number of people experiencing homelessness within it is also growing," Conner told the Pinnacle. "There are a lot more people to serve and a lot more benefits to bring into this event forum."
Indeed, as the demographics of the city change, so do the needs of people experiencing homelessness.
Bradley Joseph Jenner, who served 19 years in the 25th Infantry Division at Schofield Barracks, the largest army post in Hawaii, pondered over a complimentary cheese sandwich on what his next move in life should be.
"I haven't figured out my next chapter," explained the 44-year-old Parker native.
The once vibrant camouflage patterns on his worn out army jacket had now melted into a muddy green.
US veterans make up nearly 8.5% of all homeless persons; a staggering figure of 50,000 men and women.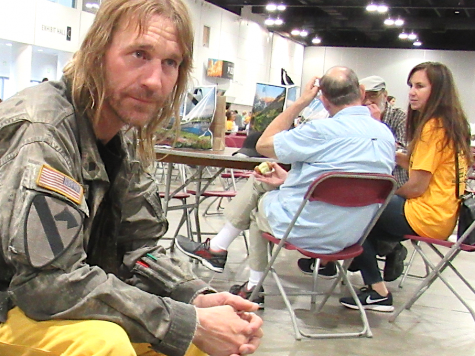 And though these brave souls receive some type of compensation or pension benefit, still, many aren't able to secure affordable housing in a safe environment.
Statistics from the National Low Income Housing Coalition indicate that a family with a full-time worker earning minimum wage cannot afford Fair Market rent for a two-bedroom apartment anywhere in the US.
But besides the lack of affordable housing, there is a myriad of other reasons why people end up without a roof over their head. Poverty and inadequate employment opportunities are additional contributing factors.
A brow raising article published by CNN Money earlier this year, headlined, "6 in 10 Americans don't have $500 in savings," highlighted how low-income families could be just one illness or accident away from being put out on the streets.
Furthermore, each day thousands of people with severe mental illness wind up living on the streets. In a 2015 research summary compiled by the Treatment Advocacy Center, "Approximately one-third of the total homeless population includes individuals with serious, untreated mental illnesses."
Strong efforts are underway to combat these issues. One strategy gaining favor in treating the homeless who are mentally ill is the "Housing First" approach which puts individuals literally into housing first, then treats their ailments.
Officials say this initiative is rapidly moving mentally ill people off the streets, saving the country millions of dollars each year in homeless costs.
Though it wasn't the season of giving yet, Denver's heart was on full display in the Convention Center on Tuesday, as the line for people who wanted to volunteer meandered a quarter-mile long.
Project Homeless Connect didn't aim to solve everyone's problems, but instead provided a collective, much needed, encouraging step in the right direction.
According to Conner, sixty-nine previously unemployed people were hired on the spot that day while more than 1300 people received integral assistance.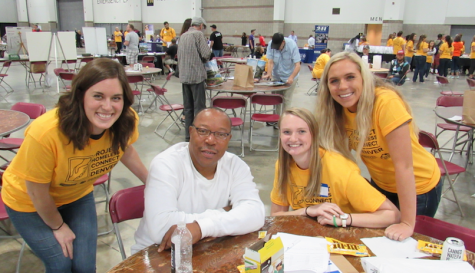 "I feel very lucky to engage in this work on behalf of the city, and it's just amazing to me every year to see how much of our community really deeply cares about this issue and wants to engage."
View Comments (6)