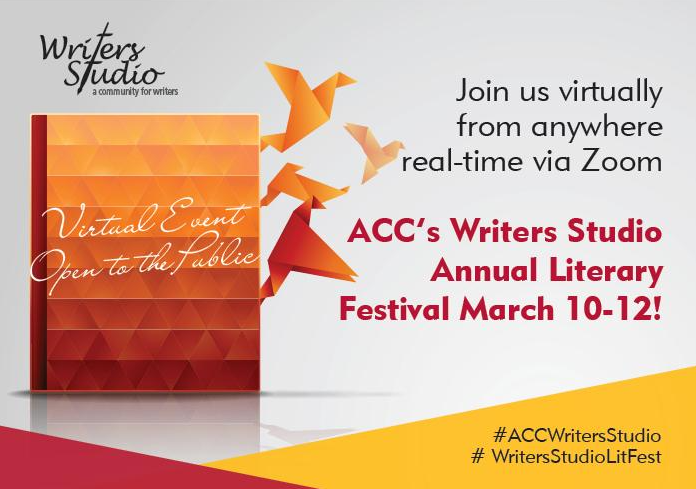 ACC
Arapahoe Community College (ACC) Writers Studio held its annual Literary Festival. The festival ran from March 10 through March 12 over Zoom, featuring a variety of panels and workshops run by seven authors. 
Thursday, March 10, marked the beginning of the festival, with the "Writing for a Teen Audience" panel, featuring panelists Len Vlahos, Sherry Shahan, and David-Matthew Barnes. All three of these featured panelists have written books for young adult audiences, and each of them provided festival attendees with some insight into how they began writing and discovered the Young Adult (YA) genre. 
On Friday, March 11, writers Kathryn Winograd and Annie Dawid ran a panel called "For the Love of the Writer: Publishing and Creating the Humble Essayist Press." In this panel, Dawid and Winograd taught festival attendees what the process of publishing looked like, and how they could pursue it themselves.  
Day three of the festival, March 12 was jam-packed with panels throughout the morning and afternoon. The first of these began at 9:00 A.M., which was a workshop from Vlahos called "Effective Pacing in Your Fiction." The workshop covered topics such as 3-act-structure, advice for revising and editing, the best approaches for writing dialogue, and more. 
"For a writer, it's something I think is often overlooked or only thought of in terms of 'it'll happen organically or it won't,'" said Vlahos, "Pacing is the speed at which your story is told, not the speed at which it takes place. There are a lot of things, from story structure to using too much exposition to not using much dialogue, that will impact the pace of your story." 
The second panel was not long afterward, at 10:45 a.m. Winograd held her workshop, "Writing with Abandon and Control in Poetry and Prose." The workshop featured writing exercises throughout and, as the title suggested, focused a lot on how to use abandon and control as a writer. 
Lunchtime saw a break from the day's workshops to allow a reading from six of the seven featured authors. The reading featured a variety of genres, including poetry and young adult fiction. This event was a unique piece of the festival, as it was open to anyone, not just festival attendees.  
The final event of the festival started at 2 p.m., a workshop taught by Gabino Iglesias called "Violence and Horror." This workshop taught attendees about the violence found in horror writing, and how to use it effectively in writing horror.  
"I don't think we've ever had that, and he was from Austin, so I think it was great that technology allowed us to have him come in without the travel," Andrea Mason says. 
One of the featured authors, Len Vlahos spent years writing essays, screenplays, and short stories, but his journey to becoming a YA writer began when he was on tour with his former punk band and began writing about that experience. He then crafted a novel that was initially about a 40-year-old man on his way to a reunion, and showed it to his wife, who suggested that it was a young adult book. After making some edits to the story, he eventually published his first book, known as "The Scar Boys."  
"Last year and this year, I've been fortunate enough to be invited to speak to an ACC media class taught by Joelle Milholm. Through that relationship, I've been in touch with some of the Writers' Studio folks, and they invited me to participate in Lit Fest as a local author. I was excited at the opportunity. It really seems like ACC has a really good literary community. It feels like there's a strong thread of that running through the campus and through the school, so I was excited to be asked to participate." 
Another featured author, Kathy Winograd, was a former ACC faculty member, who worked as the Department Chair of Composition, Creative Writing, and Journalism. Winograd spoke at three of the events, including: "For the Love of the Writer: Publishing and Creating the Humble Essayist Press," "Writing with Abandon and Control in Poetry and Prose" and the lunchtime reading.  
"I loved being a panelist.  It was fun to think about this panel and its focus on publication. Sometimes as a writer I forget what I've done in the past and it's good to look back," said Winograd. "Teaching has been a part of my life forever and I always feel good giving what I can about writing to others."  
Winograd added that she wanted participants of the festival to leave with "joy, Discovery, Freedom, Love of Writing. A spark of curiosity that will get them thinking further about what I was able to show them
Through a variety of panels, workshops, and a reading, the Writers Studio Literary Festival was able to be a space for writers of all backgrounds to learn together.   
"I think it was a success," Andrea said, summarizing the festival, "We have a very loyal, pretty small following of community members and alumni and a lot of people who have taken classes here. It is sort of an older crowd, so Zoom definitely attracted a different, younger crowd. It wasn't limited by region or geography. In the past, if we were trying to get someone from a distance to come to the festival, what we paid them would cancel the cost of their plane ticket. This year, with using Zoom, we had some local people, someone who lives in Austin, a writer from California, and it's just nice that we can draw a larger pool of talented writers and not have to pay for their travel expenses. They're probably happy, too."