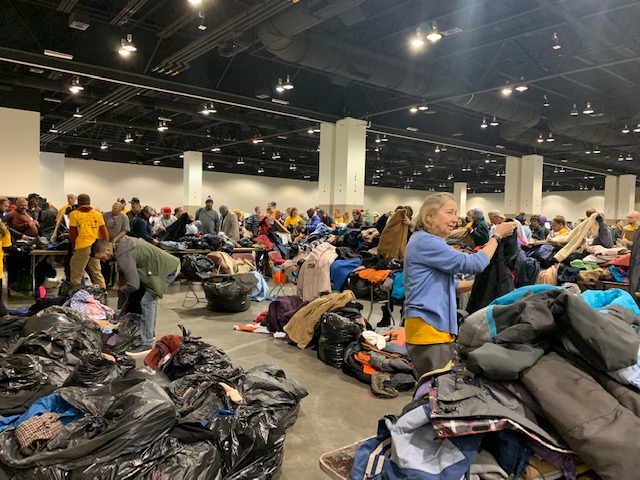 Kristine Doherty
As the weather transitions from shorts to jeans and tanks to sweaters, many people will go without coats, hats, gloves, and scarves. Those ranging from babies to elderly, and many of them without any money, a home, or food. But with the help of students and staff members from Arapahoe Community College (ACC), some of those people can stay a bit warmer as the harsh weather begins to settle in.  
The 2nd annual coat drive, better known as Project Homeless Connect, started last year when ACC paired up with Coats for Colorado to collect used coats, hats, and gloves. This year's event took place October 10th. Many staff members this year decided to make it a competition to help encourage their students to donate coats ranging from offering free food to extra credit. Kristine Doherty, one of the ACC staff members, personally offered 50 extra credit points for two coats in her public speaking class and 25 extra credit points for two coats in her interpersonal class. This was also Kristine's first year helping and the coats began to take over her house and office space.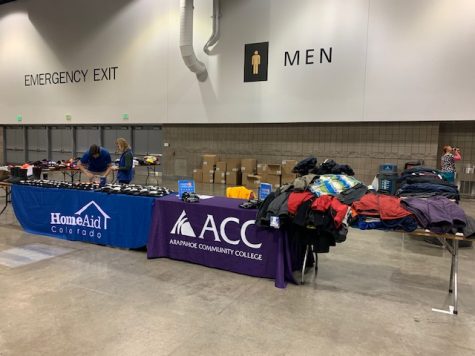 The night before the event the members involved in the coat drive went to Kristine's house to pick up the coats and went into the convention center to drop all of them off. Then the morning of, the volunteers sorted them out to distribute them.  
Diana Hornick and Kristine Doherty were two of the eleven staff members working the ACC coat drive table, along with seven students; With them was Brad Bartholomew and his photography class who set up a table where they took portraits for those who showed up. He ended up taking approximately 130 shots that day. 
Michelle Schiltz, from Colorado's Finest cosmetology department, sent a representative along with some students to help those in need get cleaned up for free.  
The goal here was not only to give people coats, but to help them out in their lives. There was everything they needed there from food to clothes, jobs to housing, and help for their families.
Pets were also given a chance to get taken care of. There were booths for everything everyone needed, and volunteers attempted to help these people get back on track.  
Along with ACC and Colorado's Finest, Coats for Colorado showed up bringing in a total of 1,500 coats. At the end of the day there were no coats left and even better, the men's coats were completely gone before noon. ACC also brought in 148 hats, 62 scarves and 117 pairs of gloves and those were gone by 3 o'clock when the event ended.  
on Oct. 10, 2019 there was a snowstorm that caused one volunteer to call out. But when asked if the snow effected the event Hornick stated "there was even more demand for coats than expected. We had the most popular booth at the event for the first hour."  
Both staff members had different experiences with the coat drive and saw how it impacted others.  
Doherty said "One of many memorable moments was when I briefly talked with a young couple who camped out near our Coat Table, while eating their lunches delivered by volunteers, with their dog at their side. I asked if they had a chance to find a coat, and then I asked if they were able to take their dog to the pet support area and get him some food and snacks. They said yes to everything and seemed content to sit somewhere warm and safe with lots of food." It's something as little as that, that makes people like Hornick want to help bring these people a bit of joy and comfort. 
Doherty's memorable moment was when she was able to give a man a coat that had been her sons prior. When asked she stated, "for me it was when a man asked to see a coat that was on the table behind me and I realized he wanted to look at the coat my college age son had donated. He loved it and when I told him the story behind it, he said, "God bless your son"' 
It truly is the small things in life that make our days better.  
Next year Doherty said that their goal is to get the Parker campus and Castle Rock campus along with the community more involved so that they can provide even more people with the warmth they need. Because Parker and Castle Rock didn't have any representatives, they were out of the loop about the project for the most part. Majority of the donations collected came from the Littleton campus. But with everyone's help, the word can be spread and those numbers can easily increase.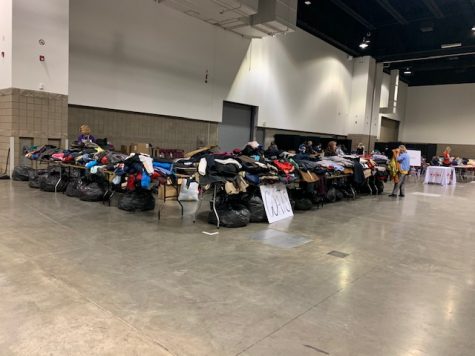 Hornick finished it perfectly with a reason why people should get involved. "Housing insecurity and inadequate affordable housing affects everyone who lives in and around the Denver area because our homeless population is quickly growing to what San Francisco is experiencing right now, and we all need to not only be aware of the problem but be part of the solution. Project Homeless Connect is only one day a year and it won't solve any issues related to homelessness overnight, but many guest who showed up on this one day will have found housing, prepared for winter, secured a real job, gotten an official ID, and took care of much-needed medical, pet, and child issues. Everyone is part of everything, and the sooner we figure that out the better our world will become because we will want to do something to help."