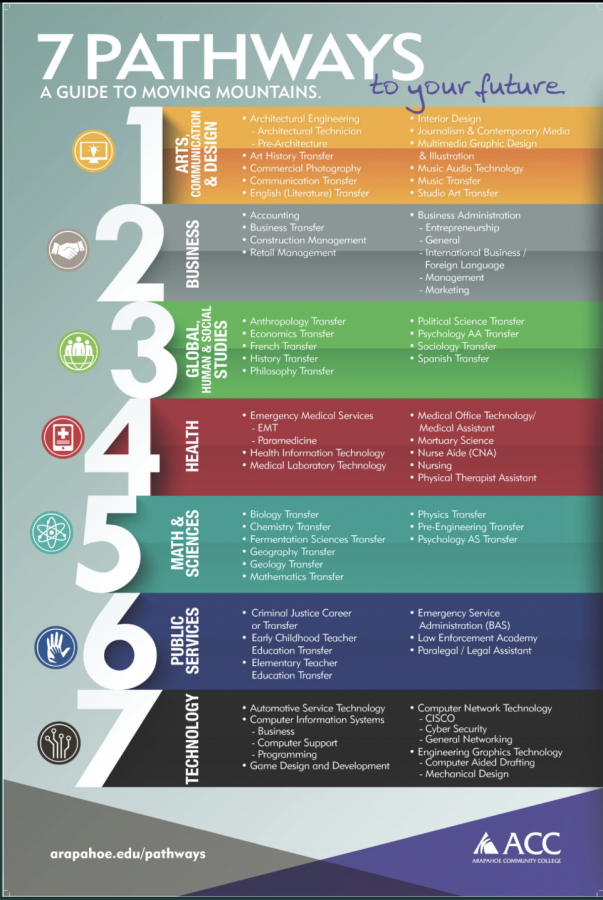 Academic Pathways are a program designed by the American Association of Community Colleges that is aimed to aid community college students in saving money and accelerating their progress towards obtaining the desired degree.
Each of the seven Pathways provides a specific academic plan for all of the listed, qualified degrees- helping students choose the classes they'll need for their selected degree. Colleges across the country are utilizing the Pathways approach, including Arapahoe Community College, Community College of Denver, and Frontrange Community College. All of the ACC campuses utilize this, including the new Sturm Collaboration Campus in Castle Rock, Colo.
According to Josie Mills, ACC Associate Vice President for Instruction, says that the Pathways are instilled in colleges to support students to "clarify their path, enter the path, stay on the path, and make sure they're learning."
Not only does the Pathways help students earn their certificates and degrees, but it also makes switching degrees easier.
Taking the recommended classes in your first year makes it easier to transfer to a different Pathway or degree program because more of the general education and transferable classes that are recommended by the academic plans. Already have stated this. The Pathways approach focuses on breaking down equity gaps.
"Part of the Pathways goals is to really help students that are from underrepresented populations or might be economically challenged, to also come to college and earn a degree." Says Mills. 
For individuals that might be first-generation college students or are in tough spots financially, the Pathways approach helps welcome those students and provides them with the support they need to earn their credentials. ACC has been utilizing the Pathways approach for about three years now and since then, the graduation rate has gone up from 25 percent to 33 percent. 
While Pathways has already done a lot for students, there has been some minor backlash concerning how students can pick classes. Certain classes will be recommended to students based on their degree plan, the ability to transfer, and the success rates in that course. Because of this method, many classes that could potentially be taken, aren't recommended by the academic plan because they don't meet some of these criteria. However, while the academic plan might not recommend certain classes, students are still able to see all of the available courses in the degree check feature in our student portals.
If you would like more information on the Pathways approach or information on your Pathway visit arapahoe.edu/pathways.