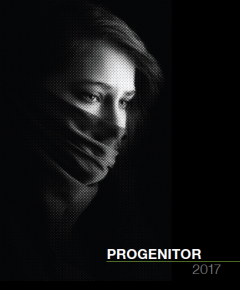 The term 'progenitor' refers to the responsibility to the coming generations. At Arapahoe Community College, Progenitor now has become synonymous with excellence in literary magazine work.
ACC's own Progenitor won several awards this past year for their 2017 edition. The American Scholastic Press Association awarded two to the publication: Most Outstanding Community College Literary-Art Magazine and First Place with Special Merit. Progenitor was also chosen as a Magazine Pacemaker finalist by the Associated Collegiate Press.
With over 50 years of continuous publication, Progenitor's awards come from not only the original works submitted from all over the world but also the hard work of editors like Rashid Mohamed who served as art and photography editor for the award-winning edition.
"I always looked forward to seeing the fruition of our work after each phase," Mohamed, who never intended to be a part of Progenitor, said. "It was an exciting and interesting experience that took a lot of concentration, foresight and determination to see it all through. Being able to add on your resume that you've been part of the production process for a national award-winning literary magazine is a fulfilling sensation."
Progenitor, which accepts original and unpublished prose, art and photography from students, writers and artists around the world, is published every spring by a dedicated group of students who enroll in ENG 231.
Andrea Mason, English department faculty and advisor for Progenitor, is looking forward to another year of success as the latest batch of staff has settled into their roles.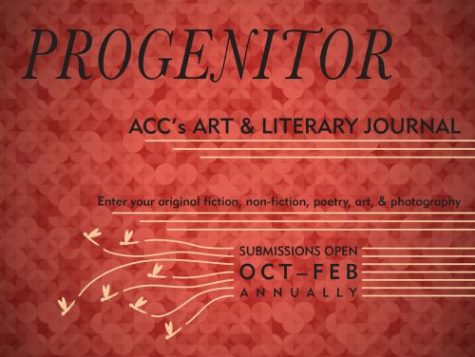 It is the submissions that Mason looks forward to most when it comes to putting together the magazine in a short number of months.
"We have gained a regional following of people who have either been submitting to Progenitor or who have been taking classes at ACC. And with our recent awards, we have gotten some more attention from people who are interested in submitting," Mason said.
As ENG 231 students have already begun to shape the new edition of Progenitor, it is the staff dynamic that Mason has taken note of. 
"Everyone seems really excited, and it will be interesting to see how everyone grows into their roles," she commented.
Mohamed offered the following advice for the new staff: "From this year's edition, I would like to see the Progenitor staff look deep into themselves and allow their creative spirit to guide them towards an interesting theme. I would also love to see more handwork, like drawing and ceramics, that might reflect the region's history and culture."
Online submissions for the 2018 edition of Progenitor are being accepted now until Feb. 15. You can find submission guidelines here.